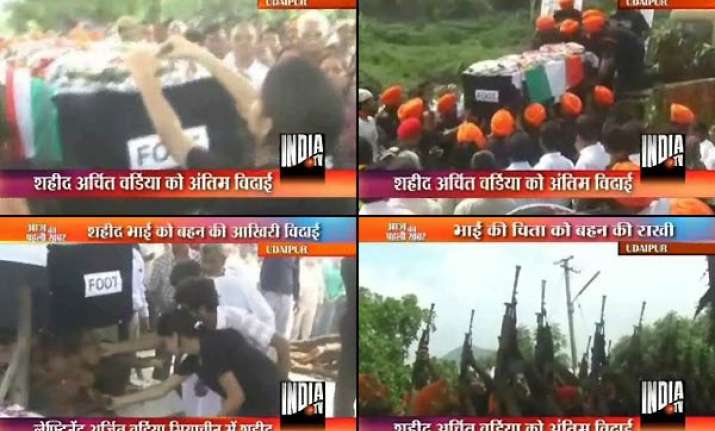 Udaipur, July 28 : Devyani had plans to tie a rakhi on her brother's wrist this year on Raksha Bandhan Day, but that was not to be. 
 
Instead, her brother Lieutenant Archit Vardiya's body came to Udaipur from faraway Siachen, the world's highest battlefield.
 
On Wednesday, a tearful Devyani lighted the funeral pyre of her brother, as hundreds of people from all walks of life in Udaipur gathered to give an emotional farewell to the Army officer.  Lieut Archit Vardiya was cremated with full state honours.
 
Lieut Archit Vardiya and Major Gurphej Singh Cheema, both of 13 Mahar Regiment were charred to death in a fire in their fibre-glass bunker at Ashok Post in Siachen glacier, 19,000 feet above sea level on Thursday night.
 
Major Cheema hailed from Kapurthala. Two army jawans got burns while trying to save their officers.
 
"I am proud of my brother who gave his supreme sacrifice while trying to save his own men", said Devyani at the funeral.