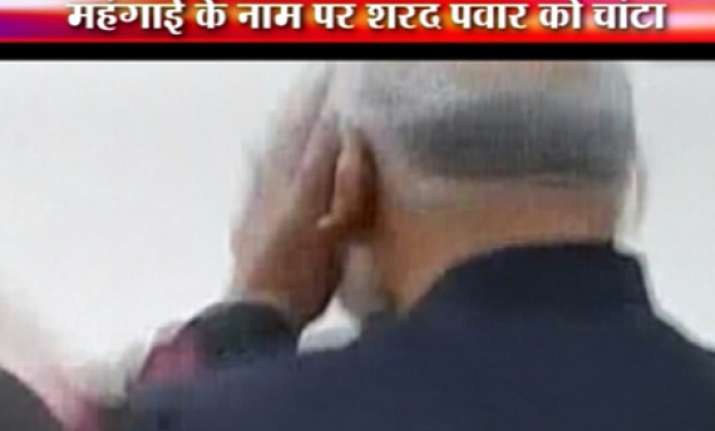 New Delhi, Nov 24: A Sikh youth Harvinder Singh today slapped Agriculture Minister and NCP supremo Sharad Pawar on his face, putting the latter off balance for some moments at the NDMC Centre.
 
The youth is the same one who had tried to assaulted former Telecom Minister Sukh Ram outside Delhi's Rohini Court complex soon after the latter was sentenced to five years imprisonment.


Harvinder was soon handed over by the private security guards to Delhi Policemen, who whisked him away, but not before the youth gave the media an earful.
 
"Sirf bhashan, Sirf bhashan, Sirf bhashan (only speeches, speeches and speeches). Kya karoon, jab bhi news dekhta hoon, sirf ghotale, aur ghotale  aur ghotale. Aur kuch nahin hai inke paas  (whenever I see news, I find scams, scams and more scams. These people don't have anything else).

"I am not a thief, not a terrorist. I am an activist. I have not done this for mere publicity. I did the same thing in Rohini.

"Today is Guru Tegh Bahadur's Shahidi Day (Martyrdom Day). I had come determined to do something. I am a follower of Guru Govind Singh, who asked Sikhs 'Sawa lakh se ek ladaoon'. Even if my head is off, I don't bother", said Harvinder Singh.

This attack comes in the wake of BJP leader and former Finance Minister Yashwant Sinha's warning yesterday that people may take recourse to violence, if prices do not come down.

Delhi Police is trying to ascertain the background of Harvinder Singh and find out how he breached the minister's security cordon.

Sharad Pawar, on his part, told a Marathi TV news channel that he was alright and this incident should not be highlighted too much.

Political leaders across the spectrum condemned today's incident saying that violence cannot be supported at any cost.
 
Samajwadi Party chief Mulayam Singh Yadav supported Yashwant Sinha's statement saying that if the poor people starve, then it will be difficult to stop them. 

Yadav however said, his party believed in non-violence. Hum marenge nahin, aur manenge bhi nahin , he added.
71-year-old Pawar, who went to give a literary award at an IFFCO function at NDMC public auditorium on Parliament Street, was slapped by Harvinder Singh, a transporter in his thirties.

As Harvinder slapped him, Pawar lost his balance but remained unperturbed after the assault and moved towards the exit of the auditorium and got into his waiting car.

Private security guards immediately overpowered the youth who was shouting "he is corrupt" and an official landed some blows on Singh.

"I came planned to the event to slap the minister," Singh told reporters who had gone to cover the literary function.
 
"All of them are corrupt," he shouted when he was removed from security and policemen. Wielding a small kirpan, the youth said things could have been worse but for the observance of martyrdom day of Guru Tegh Bahadur today.

Later, Pawar reacted to the incident calling it stupid and that he did not make much out of it.
 
When asked whether he would press charges against the attacker, he said it was for police to deal with the matter.
 
Pawar said he saw the youth standing in the midst of a group of journalists and could have taken advantage of the fact that he has very little security.

Prime Minister Manmohan Singh spoke to Pawar after the incident and condemned the attack.