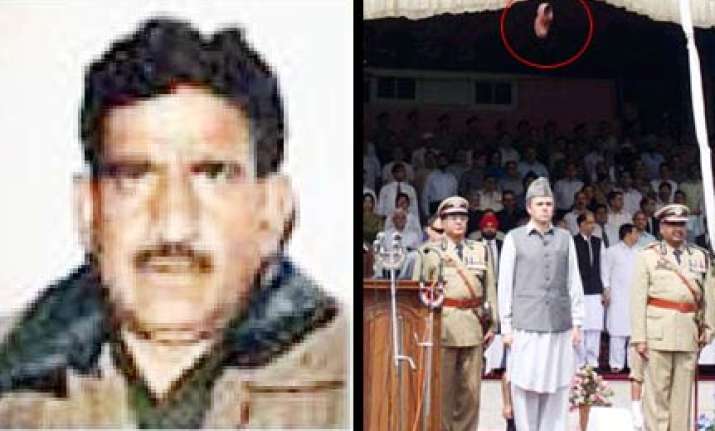 Once a decorated officer of the Jammu and Kashmir Police, 52- year- old Abdul Ahad Jan earned notoriety on Sunday when he hurled a shoe at chief minister Omar Abdullah.  
His peers claimed that the suspended policeman was mentally unstable and had started  "going downhill a long time before he snapped on Sunday".  
Jan lives with his wife and two children in a small house in the Ajas area of Bandipora district in north Kashmir.
Officials said while Jan earned accolades for his heroics in the ' 90s, he has since " lost his mental balance".
Jan's moment of glory came in January 1992 when he rescued a senior officer when the police headquarters in Srinagar was attacked by militants.
"His brave act caught the seniors' eye and Jan was promised promotion," said an officer of the J& K Police, who was also part of the force at that time. But red tape ensured Jan was never promoted.  
The policeman finally approached a local court seeking promotion as was promised to him. " The case is still in court," an officer said.
Then, in 1998, his house was burnt down by " pro-government gunmen".
 "Jan was seeking an out- of- turn promotion but it was not given to him. He was very angry because of this. He would always say he had done so much for the government but his children were still unemployed," his counsel said.
The final nail in his professional coffin came on May 22, when he was arrested for allegedly harassing locals of the Parimpora area on the outskirts of Srinagar after getting drunk. He was kept in a lock- up for four days and later suspended for his activities.  
A spokesperson of the state police said Jan was mentally unfit. "He was suspended as a head constable and is facing charges in a criminal case," the spokesperson added.
But Jan's family members denied the police's claim that he was mentally disturbed. "It is propaganda that he is mentally unsound," said Jan's nephew Gulzar Ahmad. "It was right on his part to throw a shoe in response to what is happening in Kashmir," Ahmad said.
After the noon prayers at a local mosque on Friday, Jan is believed to have made an announcement urging people to protest against the "atrocities and killing of civilians". 
Hundreds of people thronged his house at Ajas in Bandipora on Sunday in his support. Jan has already become something of a "celebrity" on some online Kashmiri social networking groups.
Police sources said that even before Jan was suspended, he was disgruntled for not being promoted. One of Jan's two sons was allegedly linked to a militant group in the past and was behind bars for several months.
Making light of Sunday's incident in Srinagar in which a shoe was flung towards his son,  Farooq Abdullah on Monday  said it was "wonderful" that he has joined the elite club of former US President George Bush, Pakistan President Asif Ali Zardari and other leaders. 
"He has joined an elite club of former US President George Bush, Home Minister P Chidambaram, Pakistan President Asif Ali Zadari and a few others with the reward of shoe. It is a wonderful thing," he quipped when reporters sought his comments outside Parliament House.. Farooq said Sunday's incident showed the security apparatus is "useless". 
Asked if the incident reflected a sense of disillusionment in the state, he said, "We have to fight out the situation that exists. We can't run away."  He said Jammu and Kashmir is part of India and he did not support the calls for its separation from the country. "Either you stay with us or sink with us," he said. PTI