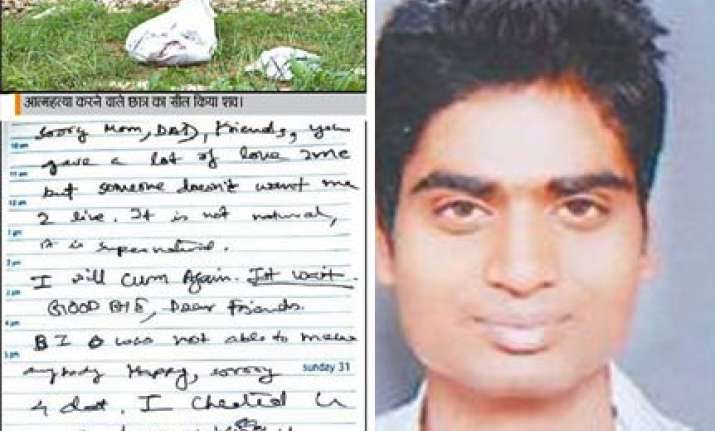 Uttam Sahu, a 3rd-year B. Tech. student of Shobhit University, Modipuram, committed suicide on Friday morning by lying on the nearby railway track with a diary note running into 20 pages inside his hostel room, even as the train ran over his neck.
The student was undergoing treatment for schizophrenia, police said. 21-year-old Uttam was the son of Ravindra Nath Sahu, a resident of Village Baramuri near Dhanbad, Jharkhand.  He calmly went to the railway track near Vinayak Institute on Friday and slept on the rail track awaiting death.
The diary  is revealing: "Sorry, Mom, DAD, Friends, you gave a lot of love 2me, but someone doesn't want me 2 live. It is not natural, it is supernatural. I will cum again. Jst wait. GOODBYE, Dear friends, I was not able to make anybody happy, sorry 4 dat. I cheated u and myself."
Schizophrenia is a serious disease afflicting many including the noted actress Parveen Baabi. Psychiatrists say, the disease progresses with the onset of Dopomine molecules in the brain. Normally, people aged between 15 to 20 years, are afflicted with this disease.
The symptoms : Patient starts believing that people are laughing at him or her. The patient has suspicions about his near relatives. As voices resound  inside his ears, the patient  smiles, weeps and laughs alternately. The voice inside the ears issues commands leading to the patient  attacking any body. Nearly 50 pc of such patients are prone to committing suicide, while a minuscule 10 per  cent recover, say psychiatrists.
Uttam's friends used to say, he used to behave normally, but occasionally he told his friends that he wants to see Death. Uttam had a friends' circle and his father had deposited Rs 3,000 in his bank account two days before his death.
Uttam's room mate Anish Kumar from Dhanbad said, Uttam used to argue with his parents over phone, and had gone out of the hostel to buy a train ticket on Friday to go home.