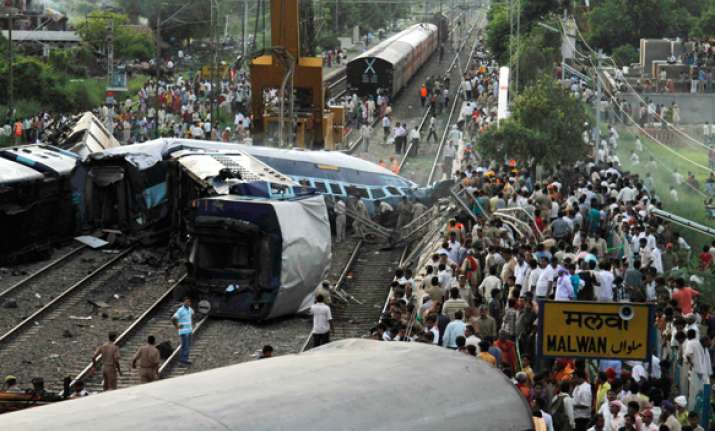 Fatehpur, Jul 13:   Shocking tales of  thieving and robbery by some Uttar Pradesh policemen  have emerged from the Kalka Mail crash that occured  on Sunday afternoon.
 
Policemen sent to pull injured passengers out of the mangled coaches of the derailed Kalka Mail went on a looting spree on Sunday afternoon and stole the victims' cash and other valuables as the bleeding passengers begged to be rescued, reports Piyush Srivastava of  the delhi newspaper Mail Today.

 
As the policemen went on a looting spree, it was left to local villagers to rescue the trapped victims, the report said.
Shocking tales of policemen rummaging through the blood-soaked pockets of passengers for cash as they squirmed in pain inside overturned and twisted train coaches have begun to emerge, says the Mail Today report.

 
Full of praise for the locals whose swift response helped saved many lives, several injured passengers, recovering in hospitals in Kanpur and  Fatehpur, are bitter with the police who, they said, behaved like a bunch of thieves.

 "Two policemen took away RS 20,000 from my pocket. I was rescued by villagers and taken to the district hospital in Fatehpur, from where I was shifted to Kanpur," Vijay Singh, a farmer from Charkhi village in Haryana's Bhiwani district, told Mail Today.  He is undergoing treatment at Kanpur's LLR Hospital.


Vijay was travelling to Delhi with three relatives when the train, going to Kalka in Haryana from Howrah in West Bengal, derailed near Malwan station between Kanpur and Fatehpur in Uttar Pradesh at 2.20 pm on Sunday.

Nearly 73 passengers were killed and more than 250 injured as the bogies smashed into one another before coming to rest like crushed cans.


While one of Vijay's relatives, Viresh, is also being treated at the same hospital, the other two, Jitendra Singh and Sunil Singh, are missing.

"We had accompanied Sunil to Kolkata, where he appeared for a job interview. All of us wanted to see the city," Vijay said from his hospital bed.

As Vijay and Viresh recuperate, his father-in-law, Hari Singh, is running from pillar to post to know whether Jitendra and Sunil are alive. Sunil and Viresh are Hari's sons and Jitendra and Vijay his sons-in-laws.


"I have visited every office, police station and hospital in Fatehpur and Kanpur and met every officer. But nobody has been able to tell me where Jitendra and Sunil are... whether they are dead or alive. I also went to all the mortuaries.

"Hundreds of passengers are missing after the accident.Police and hospital staff rebuke us when we enquire about them. We also bribed the staff at some hospitals. Even then they did not help us," Hari said.

Like Vijay, the others injured on the ill-fated train alleged they were robbed by police officers.

"My injured relative was unconscious but I was not. So I stopped them from looting us. But they took away money from the bag of an injured old woman. She told me they took away Rs 15,000 cash and jewellery worth Rs 60,000 from her," passenger K.P. Kewat said.
Some railway personnel were not too far behind the policemen when it came to moral turpitude.

The passengers alleged that the railway personnel took their signatures but didn't pay them the sum of Rs 5,000 each that was supposed to be given as immediate relief.

"My brother Iqbal Ansari is admitted at LLR Hospital. We were told that we would receive Rs 5,000 as immediate relief against the Rs 25,000 which the railways have announced for those with minor injuries. Some railway employees took his signature but did not give the money," Iqbal's sister Noor Bano said.

"Loot is taking place everywhere following the accident. While the police snatched valuables from injured passengers and lathicharged the villagers who were helping us, the railways are not paying compensation.
Hospital employees also expect money at every step.

" We want to leave this hospital in Kanpur and go to Varanasi for better treatment. For the last 10 hours, no doctor has visited my bed," Bhikhu Chaudhary, from Bhabhua in Bihar, complained.

The injured passengers are able to expose the policemen, but there is no way of verifying if the men in uniform also looted the dead.

Many unclaimed bodies are still lying in mortuaries, two days after the accident.

Of the 73 dead, the identities of 32 are yet to be established. There are seven unidentified and unclaimed bodies in Allahabad Medical College's mortuary, 10 in the Kanpur Medical College mortuary and 15 in the Fatehpur District Hospital mortuary.