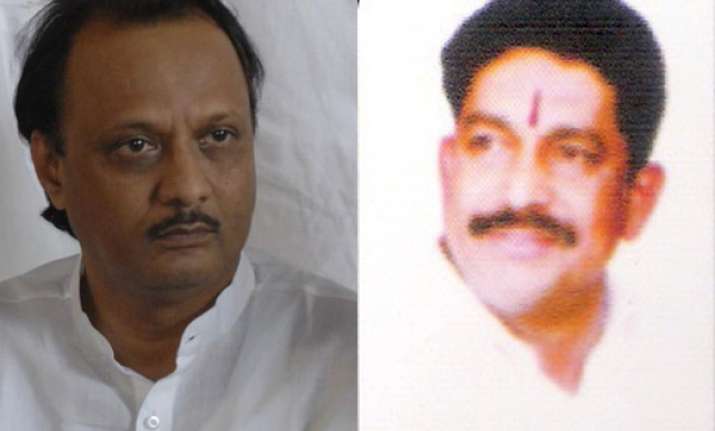 Pune, Oct 17: In a setback for the ruling Congress-NCP combine, especially the deputy Chief Minister Ajit Pawar, BJP's Bhimrao Tapkir today won the Khadakwasla assembly bypoll in Pune district, defeating NCP's Harshada Wanjale.

Tapkir won by 3,625 votes. Harshada is the widow of MNS legislator Ramesh Wanjale, whose death had necessitated the bypoll.

With this win, BJP's strength in the 288-member assembly rises to 47. MNS, which now has 12 MLAs, had not put up any candidate, as a "tribute to Ramesh Wanjale's memory".

Harshada was Congress zilla parishad member for a long time, but she joined NCP just before the bypoll, as NCP had refused to cede the seat in its 'quota' to Congress.

Ajit Pawar was instrumental in bringing her to NCP fold.  The election became prestigious for Ajit Pawar, as he holds sway over local civic bodies in the district. Also, Khadakwasla falls in the Baramati Lok Sabha constituency, represented by NCP chief Sharad Pawar's daughter, Supriya Sule.

Reacting to BJP's victory, ally Shiv Sena's spokesperson and MP Sanjay Raut said, "It is not only a defeat of Congress-NCP, but also a defeat of Ajit Pawar."

RPI leader Ramdas Athawale said the victory was result of his party's recent alliance with Shiv Sena-BJP.

During the campaign, BJP had focused on the Ajit Pawar's "arrogant" style of functioning.

Reacting to the verdict, Supriya Sule said it called for an "introspection" for NCP, and she, as the local MP, took the responsibility for the defeat.

BJP MLA from Pune, Girish Bapat, said the victory of "maha-yuti" (grand-alliance of Sena-BJP-RPI) would be a trend-setter for the future assembly elections, as the people had voted against the ruling coalition and "high-handedness" of Ajit Pawar.

Sena leader from Pune, Neelam Gorhe, termed the result as the first win for the Sena-BJP-RPI alliance. "This is a beginning of the downfall of Congress-NCP," she said.

State BJP president, Sudhir Mungantiwar, said that Tapkir's win indicated "winds of political change".

Sena-BJP and RPI workers put up a united fight and campaigned well, he noted. "This is a result of their hard work."

MNS chief Raj Thackeray said that he felt sorry for Harshada Wanjale, but the result was a slap across NCP's face, for its "dirty politics".

"Voters have shown maturity....Ajit Pawar thought that he can do anything on the strength money, but his overconfidence has been deflated,"  Thackeray told reporters in Mumbai.

"Ajit Pawar has spoiled the politics with money power.  This kind of politics will not succeed. They should learn a lesson from this," the MNS leader said.

Raj also said that had Harshada contested as MNS candidate, she would have won easily.

In Mumbai, Shiv Sena executive president Uddhav Thackeray  hailed the victory of BJP's Bhimrao Tapkir in the Khadakwasla assembly by-election, attributing it to the newly formed alliance of 'Shiv Shakti-Bhim-Shakti'. 

"The victory is because of the Shiv Shakti-Bhim Shakti alliance (alliance of Shiv Sena-BJP and RPI). NCP brought to bear its full power, but could not win," Uddhav said. 

"The Shiv Shakti-Bhim-Shakti alliance would change the political scene in the state, as is evident from the Khadakwasla result," Uddhav said, adding that people had given a fitting reply to the "dictatorship of Ajit Pawar".