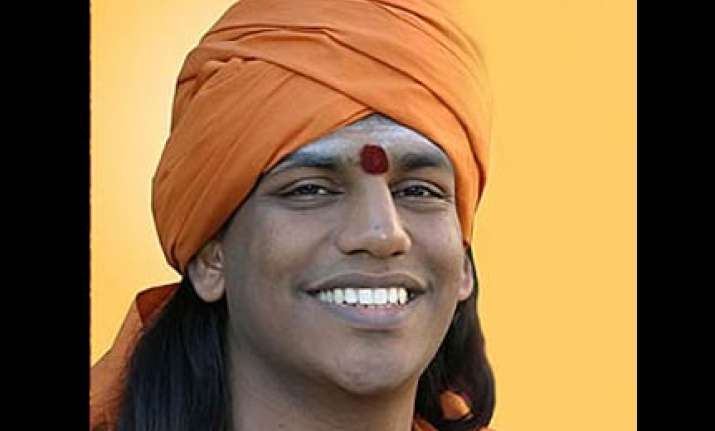 Cases of cheating were on Thursday  slapped by Tamil Nadu police against self-styled godman Nityananda Swami after a public outcry sparked by video footage of his alleged sleazy acts even as the Karnataka government assured "very strict" action against him. 
A day after ashrams of Nityananda in Tamil Nadu and Karnataka were targeted by irate public after a Tamil TV channel, followed by others later, telecast the footage, Chief Minister M Karunanidhi said government would not tolerate sleazy acts of self-styled godmen. 
Government would not be just "watching the fun" of sleazy acts of self-styled godmen...it would not tolerate the acts of cheating common man in the name of devotion, Karunanidhi said but appealed to media to refrain from telecasting or publishing such content as it would spoil young minds. Chennai police said the action invoking IPC section 420 came on a complaint by six advocates accusing the swami of cheating and obscenity. 
In Coimbatore, police registered an FIR against Nityananda under IPC section 420 and also 295-A (deliberate and malicious acts intended to outrage religious feelings). 
The issue figured in Karnataka Assembly where Home Minister V S Acharya said "very strict" action would be taken against Nityananda after receiving feedback from Tamil Nadu. He was responding to opposition Congress leader Siddaramaiah who sought immediate arrest and confiscation of property of Nityananda. 
Acharya said there were disputes over ownership of the land where the ashram is located at Bidadi in Ramanagara District near Bangalore. It appeared to be government land. He said Karnataka State Reserve Police personnel has been deployed at Bidadi to maintain law and order. 
Karunanidhi said if the media had any evidence of such acts of self-styled godmen, they should hand it over to the government and police to enable them discharge their duties.
He was worried that society should not get spoilt more by such obscene contents, Karunanidhi said adding "I am appealing to you on behalf of the government to refrain from such acts (publishing or telecasting)." 
The Nitayananda Dhyanapeetam has termed the video "defamatory" and said it's a "mix of conspiracy, graphics and rumour". It said the ashram was contemplating legal recourse. 
The Bangalore based ashram manager Sevananda has filed a police complaint stating he had received calls from Chennai, threatening to expose the alleged sleazy acts of Nityananda. He had said the caller threatened to provide footage of the acts to the media and had demanded money not to release it. The clippings were "morphed", he said.
Nityananda, in his early 30s, has sizeable sections of followers in Karnataka and Tamil Nadu besides overseas foloowers. 
A Chennai court had yesterday ordered issue of notice to a private TV channel, two newspapers and a biweekly on a suit by the ashram seeking to restrain them from telecasting or publishing any article on Nityananda and posted the case to March 8. PTI