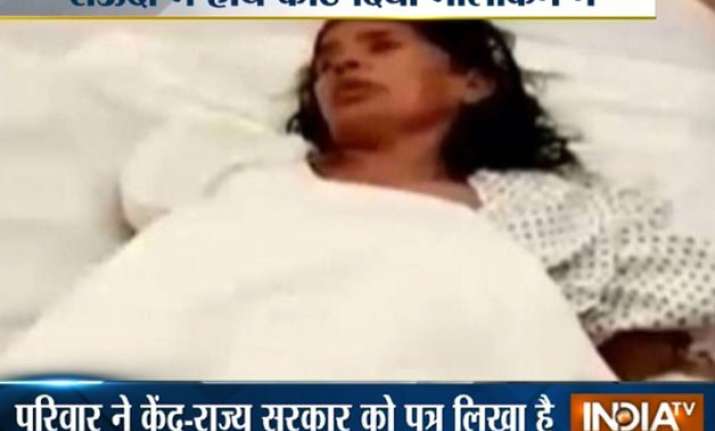 Chennai: Officials of the Indian Embassy have approached the Saudi Arabia Foreign Ministry demanding stern action against the employer of Tamil Nadu woman, Kashturi Munirathinam, whose arm was chopped off by the employer.
Reports stated that a senior diplomat of the Indian Embassy met with the top officials of the Foreign Ministry and conveyed the Government of India's displeasure over the incident.
Indian embassy officials also demanded that attempt to murder case should be filed against the accused and an independent probe must be ordered into the incident.
Family of 55-year-old woman, working as a domestic help in Saudi Arabia, has alleged that her right hand was chopped off by her employer when she tried to escape harassment and torture.
Seeking help to bring Kashturi Munirathinam back from Saudi Arabia, the family has sent representations to Tamil Nadu and Central governments.
S Vijayakumari, sister of victim Munirathinam, said, "When she tried to escape harassment and torture, her right hand was chopped off by the woman employer. She fell down and sustained serious spinal injuries."
She said Munirathinam had gone to Saudi Arabia to work as a domestic help only three months ago.
The incident took place on the intervening night of September 29-30.
"Kasturi's employer was angered after she apprised local officials about the harassment she was facing there, she was not even provided food," she said.
Asked how the family got to know the incident, Vijayakumari said, "It was through agents who sent her to Saudi."
The victim has now been hospitalised in Riyadh and is in a serious condition, our appeal is please bring her back home immediately and help in her treatment.
While Munirathinam's sister lives in Chennai, her family is in their village Moongilarei in Vellore district in Tamil Nadu.
DMK MP Kanimozhi has also sent a letter to External Affairs Minister Sushma Swaraj seeking her help in this regard.
In her letter to Swaraj, Kanimozhi said the condition of the victim was deteriorating and sought help to bring her back to Tamil Nadu.
"Steps should be taken to bring home Kasturi as soon as possible, I appeal on behalf of the victim's family," she wrote.