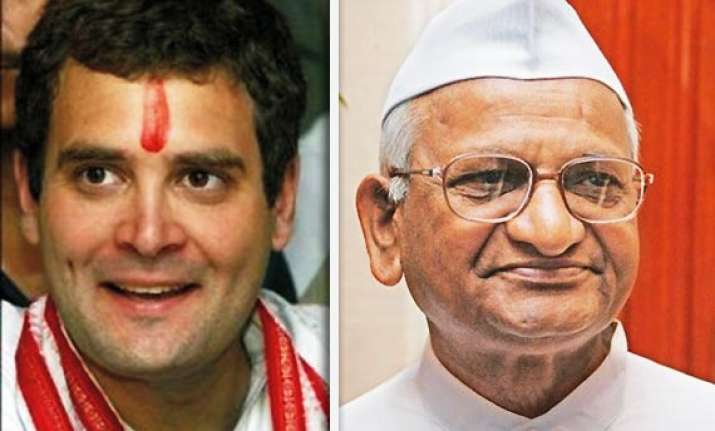 Ralegan Siddhi, Oct 19: Slamming AICC general secretary Rahul Gandhi for not meeting Sarpanch of his village Ralegaon Siddhi, Anna Hazare on Wednesday said the Sarpanch have told him that they will not meet Rahul now. "The Sarpanch won't meet Rahul even if he gives appointment," Anna said in a written statement.

The sarpanch of Ralegaon Siddhi, Jaisingh Rao Mapari, Hazare's personal secretary Suresh Pathare and Ramdas Ugale had come to New Delhi on Tuesday to meet Rahul Gandhi but were turned away by his office, which told them that they did not have an appointment.

"We came here after being told that we have an appointment with Rahul Gandhi on October 18 at 9am. We came here believing the words of the MP. Now the MP says there was a communication gap. We are returning home," Pathare said.

"We have said in our letter seeking appointment with Gandhi that we want to meet him as suggested by the MP. We were contacted by Thomas' office several times. Even Rahul Gandhi's office called the sarpanch several times.

Congress MP from Idukki PT Thomas who reportedly tried to set up the meeting was forced to apologise after Hazare's supporters were turned away by Rahul Gandhi's office. Thomas first claimed that there was no meeting scheduled, and then he retracted his statement and apologised, claiming that there was a communication gap.