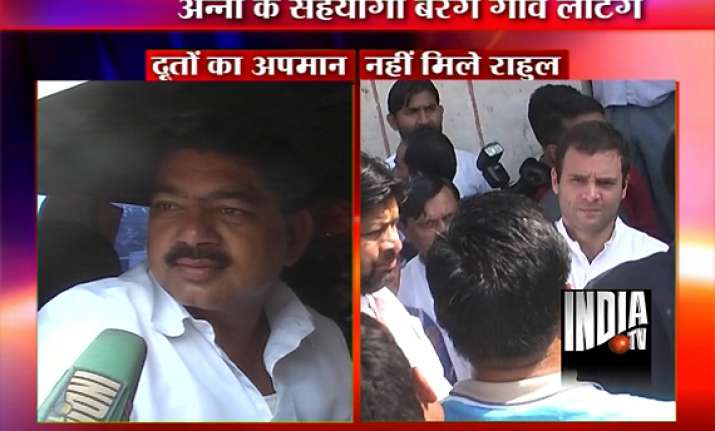 New Delhi, Oct 18: Upset over not getting an appointment with Rahul Gandhi, the sarpanch of Anna Hazare's village and his colleagues today decided to return home saying now even if they get an appointment, the village will decide whether to meet the Congress leader or not. 
Congress P T Thomas, who had interacted with them and had reportedly fixed the much-talked about meeting, however apologised for the "communication gap" that led to the confusion.

"We have come here after being told that we have an appointment with Rahul Gandhi on October 18 at 9 am. We came here believing the words of the MP. Now the MP says there was a communication gap. We are returning home. 
"We have said in our letter seeking appointment with Gandhi that we want to meet him as suggested by the MP. We were contacted by Thomas' office several times.
Even Rahul Gandhi's office called the sarpanch several times," Suresh Pathare, a close aide of Hazare, told reporters here. He said now they are not meeting Gandhi as it appeared that there were some "ego problems" and "the village panchayat will decide whether to meet him if an appointment comes in the future".

His comments came after the six-member team from Ralegan Siddhi led by sarpanch Jaisingh Mapari met Thomas at his residence this morning to sort out the matter. Mapari also claimed that he received several calls from Gandhi's office on the issue of appointment.

Thomas said his office "mistakenly" asked Mapari to come to Delhi after October 15. "There was a communication gap. I apologise to the sarpanch and others for this," he said.

However, he denied Pathare's contention that it was at his insistence that they decided to meet Gandhi.