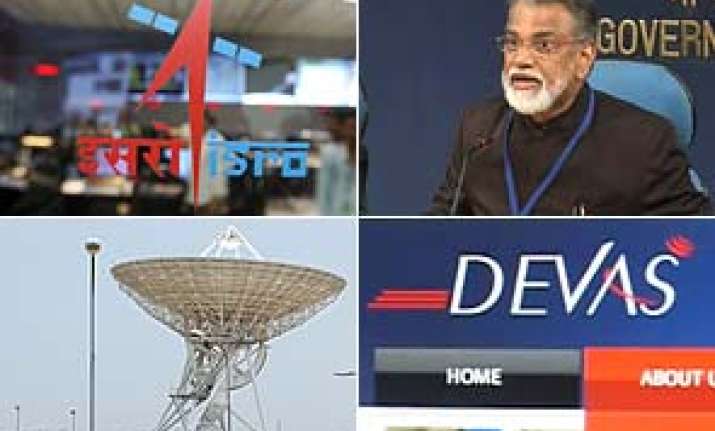 New Delhi:  India's highest decision-making body on space policy, the Space Commission, met in New Delhi today and decided to restructure Indian Space Research  Organisation's (ISRO's) commercial arm, Antrix. A special committee will also decide on a new full-time chairman for Antrix, who will be separate from the ISRO  chairman.
This decision comes as a government-appointed probe panel prepares to examine whether the Cabinet was misled by ISRO on the S-Band spectrum deal between Antrix and  Devas Multimedia.
The deal has embarrassed the government since the contract has not been cancelled even though it was deemed faulty by departments within the government nearly a year  ago.
In 2005, Antrix signed a contract with Devas Multimedia to build two satellites on which Devas would lease transponders in India. Bundled into the deal was 70 MHz of  S-Band spectrum which was priced at Rs. 1000 crore - a sweetheart deal.  
In December 2009, ISRO ordered a review of the deal and subsequently the Space Commission recommended its annulment on July 2, 2010. But surprisingly Antrix continued  to take the project forward. Antrix and Devas continued to meet on the project as late January 2011. 
In fact, representatives of Antrix met Devas executives three times in the last eight months - the most recent meeting was earlier this month. Documents suggest that  ISRO was ploughing ahead to meet its contractual commitments.
In a statement released on February 11, Devas - a private firm floated by ex-ISRO officials - said, "Devas has never been informed by DOS/ISRO/Antrix at any time prior  to February 8, 2011 that the Agreement was under review since December 8, 2009 and even to date we have received no official notices. On the contrary Devas was  provided written confirmation that all required approvals had been obtained from the highest levels for giving effect to the Agreement  and repeatedly assured that the  delays in delivery of the satellite capacity were only on account of technical issues."
The controversy is especially worrying for the government as ISRO reports directly to the Prime Minister's Office. Prime Minister Manmohan Singh has appointed a  two-member committee to review the Antrix-Devas deal. Devas Multimedia has welcomed the decision to review.
In an exclusive interview on Friday, Telecom Minister Kapil Sibal told that the Cabinet was not aware of the details of the deal struck in 2005 that allowed Devas  access to a whopping amount of premier S-band spectrum for a paltry amount.
"The contract is not operational...isn't that as good as scrapped?" asked Sibal. He also said that the Cabinet - when it cleared the deal - was not aware of its  details.   
"Individual contracts don't come before the Cabinet," said the minister, stating that what the Cabinet did sanction was merely the launch of two satellites. Sibal
refused to comment on whether ISRO had deliberately misled the Cabinet by not upfronting the basic details of the contract. He said the committee appointed by the PM  will study the terms of the deal, the shareholding of the companies involved and other details. (PTI)