Follow us on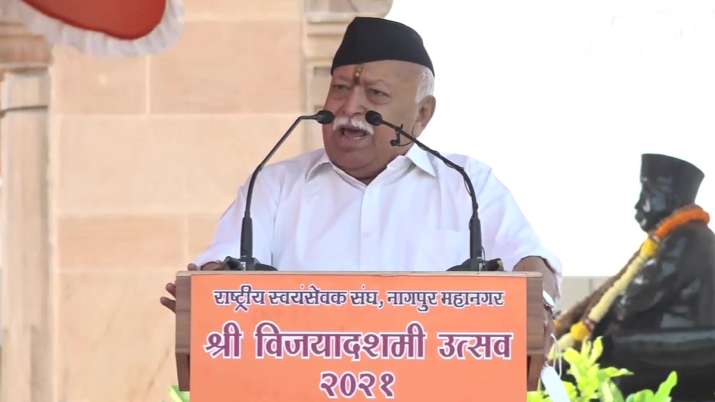 Rashtriya Swayamsevak Sangh (RSS) chief Mohan Bhagwat on Friday performed 'shastra puja' on the occasion of Vijaya Dashami or Dussehra in Nagpur. The headquarters of the RSS is located in the Mahal area of the city. Bhagwat also offered his respects at the 'samadhi sthal' of RSS founder KB Hedgewar and MS Golwalkar. Besides, he took part in the drill exercises by Swayamsevaks.
Addressing the Swayamsevaks later, Bhagwat said that "we don't want a culture that widens the divide, but the one that binds the nation together and promotes love". "Therefore, special occasions like birth anniversaries, festivals should be celebrated together. Our journey from 'Swadheehnta to Swatantrata' is as yet far from complete. There are elements in the world for whom India's progress and its rise to a respected position are detrimental to their vested interests."
Expressing concerns over the rising population, he called for a review of the country's population policy and a National Register of Citizens (NRC) while pointing out demographic imbalance due to vast differences in the growth rate of different religions.
"We should review the population policy. Ours is a country of youth… 56-57 per cent youth who will grow old. How many people can be fed? A population policy should be made thinking about the next 50 years and it should be applicable to all uniformly," Bhagwat said in his annual Vijayadashmi address.
"The policy should be implemented equally, population imbalance has become a problem," Bhagwat said, adding that the policy should be made for the next 50 years.
Partition a sad history: Bhagwat
The RSS chief also talked about the partition of India in 1947. He said that "partition of the country is a sad history, the truth of this history should be faced, to bring back the lost integrity and unity, the new generation should know that history".
Union Ministers Nitin Gadkari, former Maharashtra Chief Minister Devendra Fadnavis were among the others present at the event. The Vijaya Dashami event was also attended by Kobbi Shoshani, Consulate General of Israel, Mumbai. 
Dussehra holds special importance for Sarsanghchalaks as the RSS was founded on this day in 1925.
Bhagwat further said that terrorists were resorting to targeted killings in Jammu and Kashmir to instil fear. He said that military preparedness on borders needs to be increased. "Terrorists are resorting to targeted violence in Jammu and Kashmir to instil fear," he said.
Terrorist handlers across the border have been frustrated by the successful operations against them and the elimination of many terrorists in Kashmir, which has led them to change their strategy and target civilians belonging to the minority communities, including women. According to data, a total of 28 civilians have been killed by terrorists in Kashmir in 2021. Out of the 28, five persons belonged to the local Hindu/Sikh community while two were non-local Hindu labourers. 
'No control over what's shown on OTT platforms'
He also expressed concern over Bitcoin and OTT platforms and asked the government to take efforts to regulate these things.
"There's no control over what's shown on OTT platforms, post-Corona even children have phones. The use of narcotics is rising...how to stop it? Money from such businesses is used for anti-national activities...All of this should be controlled," he said.
READ MORE: Terrorists resorting to targeted killings to instil fear, military preparedness needs to be alert: Bhagwat