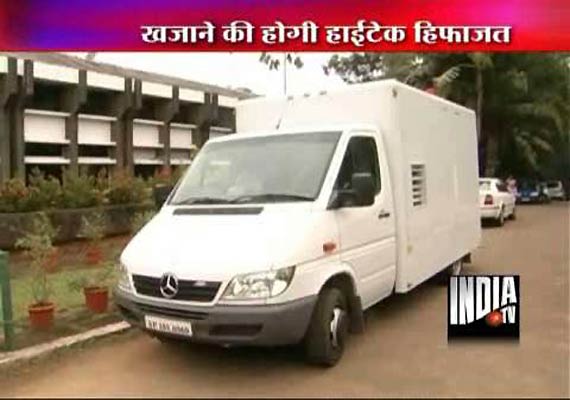 Thiruvananthapuram, Aug 4: A Rs 11 crore worth security van called "BACK SCATTER" has arrived from abroad to safegaurd approximately Rs 1 lakh crore worth treasures at the Sree Padmanabhaswamy Temple here, officials said.

The vehicle is often used by FBI , White House and several other developed nations.




Manufactured by Mercedes Benz, the Back Scatter has highly sophisticated security equipment to detect explosives , arms, suspicious metals ,currency , even drugs and gun powder.

India TV correspondent Mukesh Nair got EXCLUSIVE visuals of the Back Scatter vehicle.




The BACK SCATTER van allows for immediate deployment in response to security threats, and its high throughput capability facilitates rapid inspections.

The system's unique "drive-by" capability allows one or two operators to conduct X-ray imaging of suspect vehicles and objects while the ZBV drives past.




The ZBV can also be operated in stationary mode by parking the system and producing X-ray images of vehicles as they pass by.

Screening can also be accomplished remotely while the system is parked.

Remote operation allows scanning to be done safely, even in dangerous environments, while maintaining low-profile operation.


The system is unobtrusive, as it maintains the outward appearance of an ordinary van, says Isaac Newton Robert, general manager, corporate marketing of public sector KELTRON.

The operator is able to control the scan and view the images from a remote laptop workstation.

Sophisticated easy to use software allows the operator to zoom, pan and process the image to be able to make a rapid accurate assessment of any potential risk.

The Backscatter Van is used in port and border security, force protection, urban surveillance, and other critical security applications. The system is maneuverable, mobile and affordable.


Simply put, the ZBV is faster, more effective, and less expensive than any mobile X-ray screening solution in the marketplace today.

Top police oficials and IT experts' team of Kerala government are now doing trial with this exclusive vehicle. The trial run has already begun and according to official sources, the state government will implement this security system soon in accordance with Supreme Court's directive.




The system operator claims the Back Scatter can trace another vehicle parked or passing up to 100 meters distance.