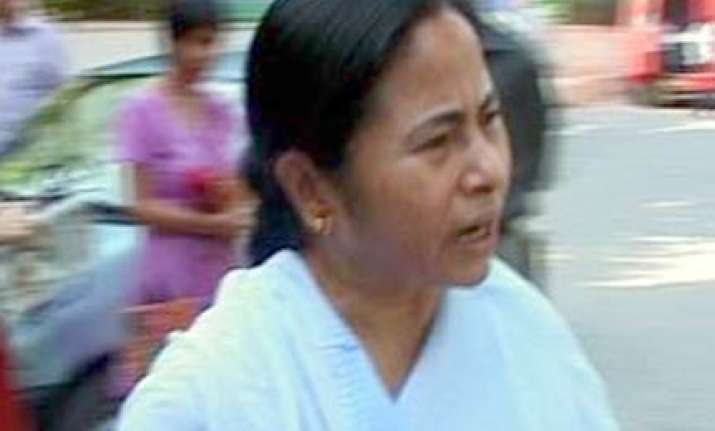 The Indian Express on Sunday reported that retired IPS officers advising Railway Minister Mamata Banerjee on security matters.
This has triggered a fierce face-off between the state government and a set of retired but influential IPS officers who swear allegiance to her.
In fact, these retired officers were mandated by Mamata to handle her security at the August 9 Lalgarh rally where they took charge of her detail and openly directed police personnel on the ground, even calling for changes in deployment patterns.
It was on her way back to Kolkata that evening that one of the vehicles in her convoy was hit by a truck driven by Gurjant Singh, from Punjab. In police custody, he has been booked on charges of attempt to murder after the Trinamool's allegation that the accident was part of a "larger criminal conspiracy."
Key members of Mamata's Lalgarh security team were H A Safwi, who retired as the state's Additional Director General of Police in 2005 and is widely known for his expertise in crowd management and control. With him was Rachpal Singh, who retired as IG in 2002.
Officially, Mamata's security was handled by the state police administration and a special cell dealing with VIP security. But The Sunday Express has learnt that both were sent a day in advance to the meeting venue.
They accompanied two TMC Union Ministers Mukul Roy, Minister of State for Shipping, and Sisir Adhikari, Minister of State for Rural Development. Both Singh and Safwi said they found the arrangements "grossly inadequate."
Singh told The Sunday Express, Singh: "The stage that was originally planned had to be dismantled and redone at our insistence...We had to ensure that the PCAPA leaders and men do not have access to the podium." He added that there were so many loopholes in security that "we had to ask the accompanying ministers for intervention from the Home Ministry."
Said Safwi: "The route restrictions and traffic management were totally inadequate and went haywire. It fell far short of our expectations. We were also surprised to find no police escort vehicles when two ministers visited the venue along with us. After all they were visiting a Maoist-affected area."
The local police weren't quite pleased with such "interference." A senior police officer requesting anonymity said, "These retired officers were giving orders to us, things came to such a pass that we informed the state headquarters that we should not be held responsible if anything goes wrong." While Safwi refuses to comment on the Kolaghat incident, Rachpal Singh admitted that the driver had become a victim of circumstances.
When he isn't handling her security, Safwi is convenor of the Trinamool Congress Minority cell. Rachpal Singh however, does not hold any official charge but says he is committed to the party and advises Banerjee on security matters, even on the Railways. "I have no such ambition (to contest the Assembly elections)," he said, unless I am told to do so."
Rachpal Singh's colleague Sultan Singh, who retired as Additional DGP in 2004, is a regular at TMC office. Abani Mohan Joardar, another IPS officer who retired in 2004 as DIG, has been with the party for some time. One of the first IPS officers to join Banerjee is C M Jatua, now Union Minister of State for Information & Broadcasting. Nazrul Islam, a serving IPS officer, is considered close to her and has got into the Railway Board as Officer on Special Duty, (Railway Security).