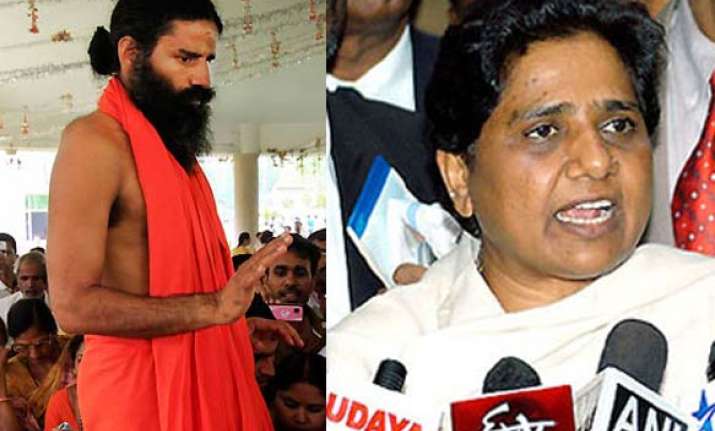 Lucknow, Jun 7 : A Monday night report said the UP government has imposed restrictions on holding of public rallies in areas close to the national capital in view of Swami Ramdev's agitation.

Meanwhile, the BJP on Monday accused the Uttar Pradesh government of acting under UPA's pressure in denying permission to yoga master Baba Ramdev to hold his peaceful agitation in the state.

"If Baba can hold satyagraha in Uttaranchal, why can't he do the same in Noida or Muzaffarnagar as his programme is totally peaceful.

"But, the state government promulgated prohibitory orders to thwart his move," UP BJP chief Surya Pratap Shahi told reporters here.

"Chief Minister Mayawati's statement condemning the police action on the yoga guru took us by surprise. But she took a U-turn later and stopped him from entering the state," he said.

"Either the Chief Minister is with the Congress or has acted under pressure of the Union government" Shahi said.

He described the police action on Baba's supporters as an attack on democracy.

Meanwhile, the Uttar Pradesh government on Monday night said yoga guru Baba Ramdev, who was not allowed to enter Muzaffarnagar by the district administration, did not seek any permission from it for holding a protest in the state.

"We have not received any request from Baba Ramdev for holding a protest in the state," UP Home Secretary Deepak Kumar told reporters here.Asked why Ramdev was turned back from Muzaffarnagar last night, he said the decision in this regard was taken by the district administration."A District Magistrate is empowered to take such a decision depending on the situation," Kumar said.

After he was bundled out from the national capital, Ramdev's bid to return to Delhi was thwarted by the Muzaffarnagar administration last night.