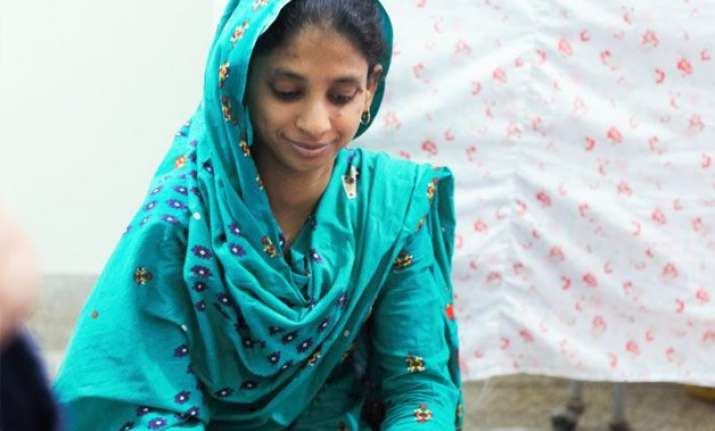 New Delhi: External Affairs Minister Sushma Swaraj today directed Indian High Commissioner to Pakistan, TCA Raghavan, to meet the deaf and mute Indian girl, Geeta, stuck in Pakistan for 14 years.
"I have asked Indian High Commissioner to Pakistan Dr TCA Raghavan to go to Karachi with Mrs Raghavan and meet this girl," Swaraj tweeted.
Swaraj was responding to a tweet from leading rights activist and Pakistan's former human rights minister Ansar Burney, who has launched a fresh campaign to reunite the woman with her family in India.

The Punjab Rangers brought her to the Edhi Foundation some 14 years ago.
"For years, we have been trying to locate her family or her hometown so that she can return," Faisal Edhi of the social welfare group said.
After spending some time at an Edhi Centre in Lahore, the girl was shifted to a Karachi shelter where Bilquis Edhi, a philanthropist known as 'The Mother of Pakistan', named her 'Geeta' and became quite attached to the girl.
Now 23-year-old, Geeta is believed to have mistakenly crossed into the Pakistani territory as a child.
Though she has managed to recognise the Indian map on a mobile phone, she has not been successful in conveying any other information to the Edhi staff.
Sobbing silently, she frantically points first at Jharkhand and then Telangana, trying hard to tell something of her past.
Using her fingers and facial expression, Geeta says she has seven brothers and four sisters.
"We have shown her writings to people but nothing has come out of it. She copies Hindi words from magazines," Faisal said.
With the success of the Salman Khan-starrer 'Bajrangi Bhaijaan', activists are making efforts to reunite Geeta with her family in India.
Burney, who raised Geeta's issue three years ago during a visit to India, is now running a Facebook campaign for her.