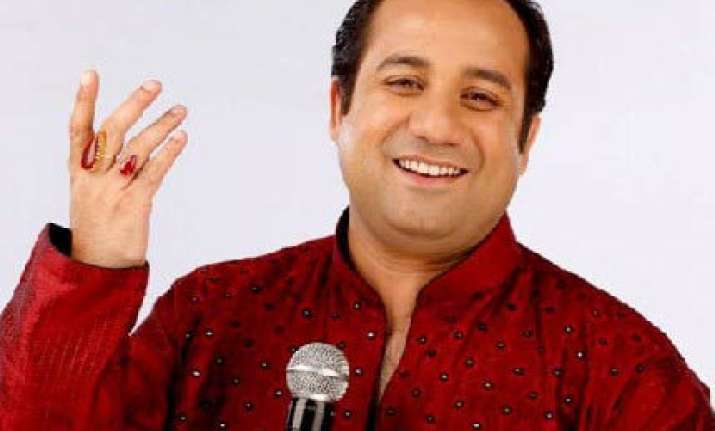 Ahmedbad, Feb 15: A friendly chat between officials of the Rajkot rural police and members of singer Rahat Fateh Ali Khan's troupe led to the tip-off received by revenue officials and his eventual detention at Delhi airport, says a media report.
Members of Rahat Fateh Ali Khan's troupe had a friendly chat with officials of the Rajkot rural police during which, the cops, who were assigned to protect the troupe, learnt that the singer was carrying a large amount of US currency as payment received for participating in a three-day show.Rahat Fateh Ali Khan was felicitated at a three-day programme at Rajendra Bapu ashram in Torania village in Rajkot.
The police then tipped off the Directorate of Revenue Intelligence (DRI) about the US dollars stacked in the luggages.
Meanwhile, the rajkot rural police has started a parallel inquiry into Rahat's visit to Torania, a village close to Rajkot for a live performance at the ashram on Friday.
Pakistani visitors are given visas to specific cities in the country and they are trying to ascertain whether Rahat Fateh Ali Khan had a visa for performing in Torania.
DIG Rajkot rural range Manoj Shashidharan said, "Preliminary inquires have revealed that Khan had performed at the ashram run by spiritual guru Rajendra Bapu. He was one of the singers who had taken part in a three-day concert organised by the ashram."
"We have information that Khan arrived in Rajkot a day before the event and was staying at a hotel in Rajkot city. He then drove to the ashram on Friday and left the city either the same night or early Saturday morning," he said.
The officer added that one of Bapu's followers from Mumbai had spent a lot of money organising the event.
He said they would question both Bapu and the event organisers to confirm if any sum was paid to Khan for the performance, and if so, the amount, mode and currency of payment.
To confirm Khan's visa details, the Gujarat police are checking the records at the Foreigners' Registration Office. Shashidharan said appropriate action would be taken against Khan if any discrepancy is found.