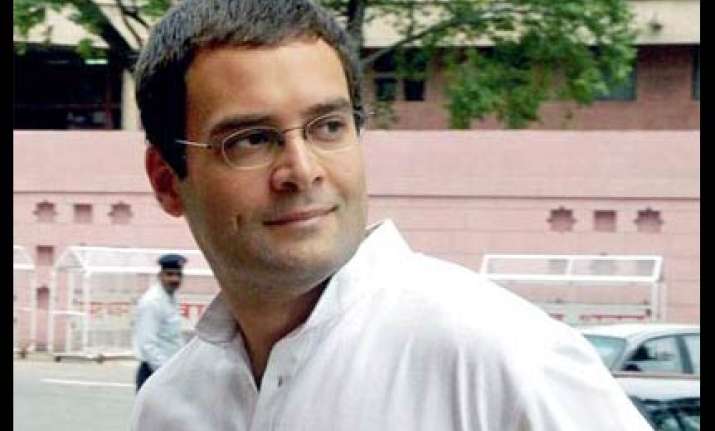 Travelling from one village to another, Congress leader Rahul Gandhi on Thursday  met the families of victims of yesterday's stampede that left 63 woman and children dead, comforting them and assuring them of swift help.
The Congress general secretary visited Mawaikala village and met with the families of four children who lost their life in the stampede that occurred during distribution of food at an ashram.
He also met the bereaved families in nearby Mia ka purva. Four children and one woman from the village were killed in the incident. Rahul consoled the injured and assured the families that the financial help announced by the Centre will reach them promptly.
Rahul landed at the Bamrauli airport near Allahabad and proceeded by road to Pratapgarh district, which shares its border with Rae Bareli and Amethi Lok Sabha constituencies, represented by Sonia Gandhi and Rahul. 
"We were informed about Gandhi's visit barely 10 minutes prior to his arrival. After receiving him at the Bamrauli airport we are now following him on his way to Shree Kripaluji Maharaj's ashram at Mangarh", UPCC spokesman Kishore Varshney said.  "Rahul wanted it to be a low-profile visit as it was sombre occasion. So nobody was informed. Arrangements were made at the last moment," a close aide of the Amethi MP said in Delhi. 
The administration was also taken by surprise. Inspector General of Police Chandraprakash said "we somehow managed to deploy adequate security along the route Gandhi has taken".  The Centre has announced ex-gratia payment of Rs 2 lakh to the next of kin of the deceased. Congress President Sonia Gandhi too expressed grief and conveyed her condolences to the bereaved families. PTI