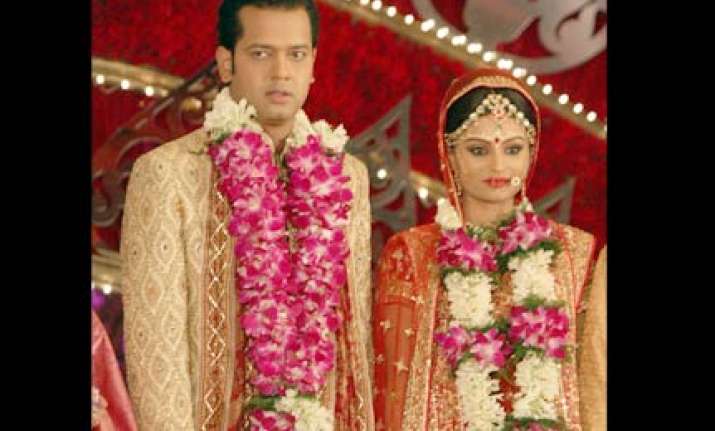 Rahul Mahajan's hunt for a perfect bride on TV is over as the reality show star picked up Bengali girl Dimpy Ganguly to tie the knot in true Bollywood style.
Mahajan, who has had a troubled past with drug abuse charges and an acrimonious marriage and divorce from childhood friend Shweta Singh, hopes that it is a "happily ever after" for him. 
Mahajan chose 21-year-old Dimpy, a model and dancer, over Nikunj Malik, 25, and Harpreet Chhabra, 20, on reality TV show 'Rahul Dulhaniya Le Jayega' broadcast by NDTV Imagine. 
Rahul decided to go ahead with his wedding despite the recent death of his uncle Praveen Mahajan, who was convicted for killing his politician father Pramod Mahajan in 2006. 
The Bengali-style wedding was held in a luxurious Mumbai suburban hotel and the couple wore outfits designed by famous fashion designers Ashley Rebello, Neeta Lulla and Vikram Phadnis. 
34-year-old Rahul, who's facing drug abuse charges, had requested a Delhi court for releasing his passport so that his wife and he could spend their honeymoon in Maldives.
"Its a great feeling. I am both excited and nervous. I really believe marriages are made in heaven and this time I'll give whatever I have to make my wife happy. It is going to be happily ever after," Rahul had said. 
Dimpy, who was a favourite due to her "crackling chemistry" with Rahul, said she was always confident of being 'Mrs Mahajan' as she knows how to handle the media better than the other contestants.  
"We both share a better chemistry and Rahul knows that I am the most genuine out here. Moreover, since I am already a known face in Kolkata I believe I can manage media attention much better after becoming his wife," Dimpy said. 
The 15 prospective brides were shortlisted from across the length and breadth of the country through an extensive audition process out of which Nikunj, Dimpy and Harpreet were the top three finalists. 
Rahul, who confessed about his "hardships" amid the media glare after his father's death, his involvement in drug case and his divorce on the show, thinks that this time marriage will bring love and stability which he always wanted. 
"All the bad times are a thing of the past and I am not going to let my past affect my present. I am ready to settle down in life and finally be happy. I have gone through a lot and now it is my time," he said. The show, however, has had its share of controversies. 
Businesswoman Maureen Wadia has slapped a show cause notice on Dimpy for breaking an exclusive contract with Gladrags and taking part in the reality show.
After the wedding, Rahul is ready to explore showbiz.
"Politics is in my blood but entertainment is my livelihood. You don't get paid that much as an MP. Showbiz is a huge business and I am looking forward to exploring it. Be it TV or films. Moreover it has a mass appeal and gives me an opportunity to get connected with people," said Rahul, who has appeared in reality TV shows like 'Bigg Boss 2' and 'Chotte Miyan'. PTI