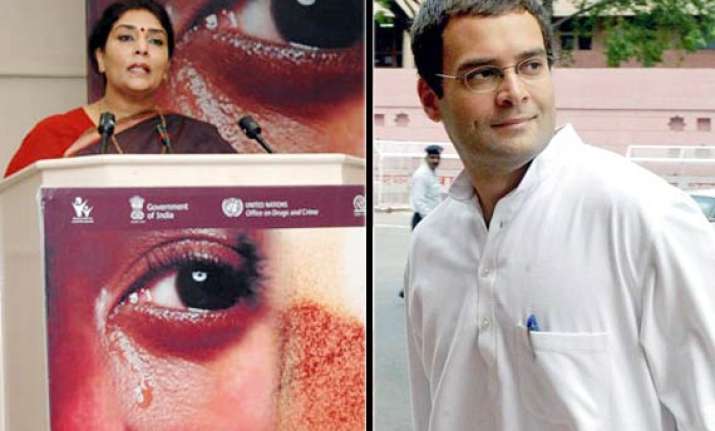 New Delhi, Oct 18: Congress today dismissed as a "storm in the teacup" the controversy surrounding the unfructified meeting of the sarpanch of Anna Hazare's village with Rahul Gandhi and insisted that no such appointment was fixed and Gandhi had no clue about it. 

"The fact is that no meeting was called for. There appeared to be some genuine confusion. Kerala MP P T Thomas categorically denied that any appointment was decided. It is unnecessarily making a storm in the teacup," party spokesperson Renuka Chowdhary told reporters here. 

Asked why Gandhi did not meet the delegation from Ralegan Siddhi village, Chowdhary said "these things are being said after assuming that Gandhi was sitting in his home leisurely and did not meet them but a leader like him could be having many pre-fixed engagements".

She insisted that Gandhi had no clue about the meeting.  Her remarks came hours after the upset village sarpanch Jaisingh Mapari and his colleagues decided to return home saying now even if they get an appointment, the village will decide whether to meet the Congress leader or not. 

A senior Congress leader steered clear of queries on whether action could be taken against the MP for the controversy but insisted that Gandhi may not be even be aware of any meeting plan.

Thomas, who had interacted with the villagers and had reportedly fixed the meeting, has already apologised for the "communication gap" that led to the confusion. 

Thomas had gone to Ralegan Siddhi a month back to study the rural development programmes initiated by Hazare there.

Suresh Pathare, a close aide of Hazare, told reporters here that even Rahul Gandhi's office had called the sarpanch several times but... it appeared that there were some "ego problems" and "the village panchayat will decide whether to meet him if an appointment comes in the future".