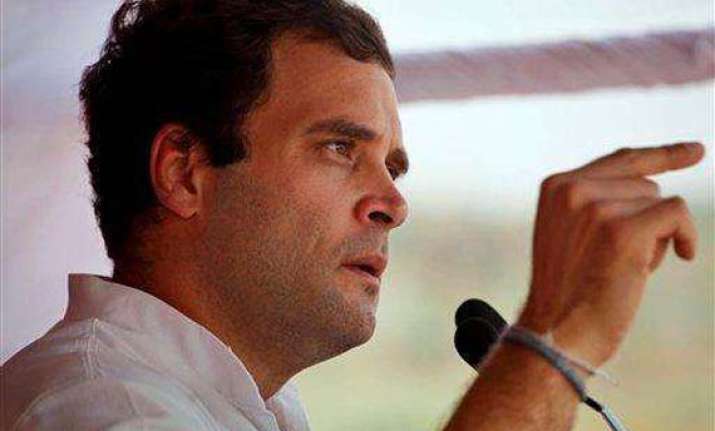 Badaun (UP), Dec 13 : Attacking BSP and Samajwadi Party, Rahul Gandhi today sought a chance for Congress to rule Uttar Pradesh promising to change the state in the next ten years when people from outside will flock there for jobs. 

Gandhi, who began his five-day trip from the Samajwadi Party stronghold, said only Congress has taken up the cause of people in the state and none of the other parties were seen in Bhatta Parsaul when farmers were targeted.  "In the past 20 years, what did you get? You trusted SP. 

What did you get back in return? You trusted BSP. What did you get? (You got) corruption. Now, we are talking about development, we are talking about the future.  "UP can change.
This is not difficult. Take it from me in writing. In five years, we can start changing this state and in ten years, people from outside will come here looking for jobs.
People will then ask, what is happening in UP...we can change things easily," he told a political rally here.  Claiming that people have been suffering for the past two decades, he said people ask him why they have to leave UP for jobs outside.

Launching an attack on Mayawati, he said there were scams in every constituency and there was no dearth of money but "ministers are stealing it".

"The money is not reaching you. Influential people do not feel the problems but it is the poor who are suffering. The problem today is that the leaders do not come to the ground," he said.

Because of the sad state of affairs in the state, he claimed, people have to leave for Punjab, Delhi, Maharashtra and other states.

During his tour, he would address 19 public meetings in as many assembly constituencies.

In the next four days, he will address public meetings in Badaun, Shahjahanpur, Farukkhabad, Kannauj and Auraiya districts. Rahul's tour would culminate at Akbarpur in Kanpur (rural) district on December 17.