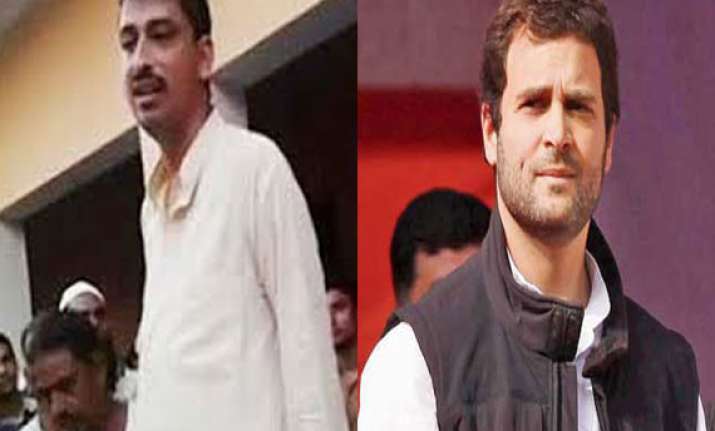 Saharanpur: Hours after a court in Saharanpur sent the Congress candidate Imran Masood to 14 days judicial custody for his "hate speech", Congress vice-president Rahul Gandhi addressed a party rally in Saharanpur where he met Masood's wife and kids on the dais.
Rahul Gandhi told the Saharanpur rally that Imran Masood had made such remarks against Narendra Modi not recently, but in December, and the Congress party did not approve of such harsh remarks.
"Congress party believes in the language of love", said Rahul Gandhi.
"We will defeat them (BJP) with love, not anger", said the Gandhi scion.
Earlier, Rahul Gandhi told an election rally in Ghaziabad that the harsh remarks made by Imran Masood against an Opposition leader (read Narendra Modi) are not reflective of the Congress ideology.
 "We do not like such harsh remarks. Congress is a party of love, and our leaders should speak with words of affection, even for political rivals", Rahul Gandhi said.
The Gandhi scion made it a point to mention that he was leaving for Saharanpur today to address the rally, scotching media speculations that he may call off his visit.
In Sahranpur, an unrepentant Imran Masood while siting inside the jail vain, said, he was ready to go to jail not once, but 100 times to protect his people.
After Rahul Gandhi's speech at Saharanpur rally, Imran Masood's elder brother Noman Masood thanked Gandhi for attending the rally despite Imran's arrest.
Imran Masood's wife Shaima Masood, addressing the rally, alleged that her husband was trapped with the video, and that she had come to the rally with her children to seek the support of the people.