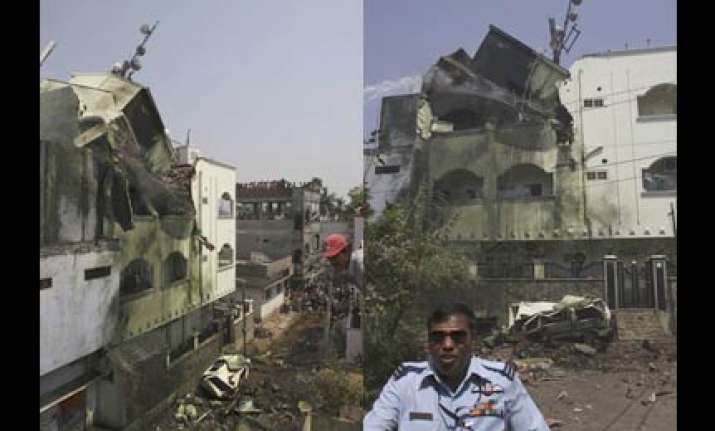 About a year ago, Lt Commander Rahul Nair paid a glowing tribute to a close friend who died in a plane crash but he would never have thought that he would meet the same fate one day.  
Rahul, whom a former Naval officer and family friend described as one of "brightest of the brightest pilots", perished along with Commander S K Maurya when a Navy plane performing aerobatics crashed into a building in Hyderabad on Wednesday.  
Former Naval officer and a close family friend, Lokesh Batra remembers Rahul as a homely boy, whom he had seen grow up. "Around one pm, we got the news about his death. It is shocking," he said.  
Batra, who had worked with Rahul's father in the Navy, said, incidentally, Rahul's friend had died nearly a year ago in a plane crash and his tribute was "was very touching".  
Rahul is survived by his father N R Nair, mother Saraswati, sister (who live in Delhi), wife and a three-year-old son (who live in Bangalore).  
"Soon after his graduation, Rahul joined the Navy. He was selected in the Sagar Pawan team, the elite group in the Navy. His selection in the group itself is a testimony that he is one of the brightest of the brightest pilots in the country," Batra said.  
"The whole family is reaching Goa where the body is being taken," Batra added.  
Rahul died when the Kiran MK-II trainer-- part of the four-plane 'Sagar Pawan' aerobatic team -- failed to pull up from a dive.  
The aircraft went out of control, into a spiral and hit the building as the planes were breaking away from the formation and going in different directions in what was a tragic start to the airshow "India Aviation 2010". PTI