Follow us on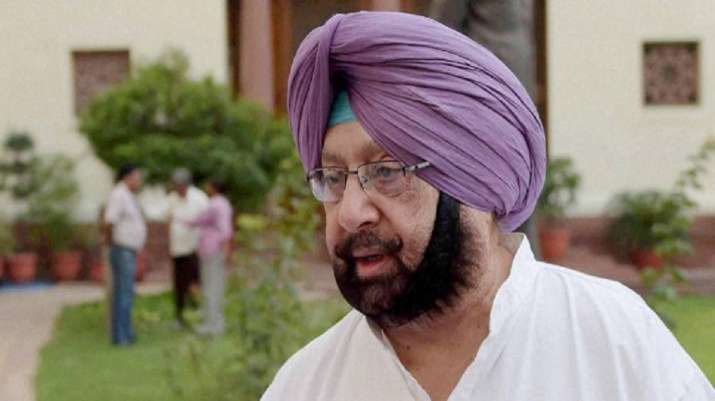 Amid fresh rumblings in the Punjab unit of Congress, Captain Amarinder Singh on Saturday resigned as Chief Minister saying he was humialted. Addressing a presser after tendering his resignation to Punjab Governor Banwarilal Purohit, he said the party can appoint whoseover it wants as next chief minister. Responding to his future actions, the former CM said he will meet his supporters to decide on his political future. Meanwhile, the Congress held its urgent meeting of its legislators in Chandigarh where it unanimously decided that party chief Sonia Gandhi will take call on deciding the next chief minister.  
Captain Amarinder Singh resigns as Punjab CM | Highlights
07:32 pm: "No talks with anyone, just submitted my resignation to Governor today," said Amarinder Singh on his future plans or whether he is in talks with BJP
06:57 pm: "For sake of my country, I'll oppose his (Navjot Singh Sidhu) name for CM of Punjab. It's a matter of national security. Pakistan PM Imran Khan is his friend. Sidhu has a relation with Army chief Gen Qamar Javed Bajwa", said Amarinder Singh.
06:55 pm: "Navjot Singh Sidhu is friends with (Pakistan Army chief) Qamar Javed Bajwa and Pakistan Prime Minister Imran Khan, I will oppose if he is chosen as the next CM face," said Former Punjab CM Amarinder Singh.
06:45 pm: "Navjot Singh Sidhu is an incompetent man, he is going to be a disaster. I will oppose his name for the next CM face. He has a connection with Pakistan. It will be a threat to national security...," says Former Punjab CM.
06:14 pm: According to reports, the Congress in its Legislature Party meeting decided that party chief Sonia Gandhi will take a call on who will be the next chief minister of Punjab. 
ALSO READ | 'Whosoever Congress wants': Captain Amarinder Singh on who will replace him as Punjab CM
06:08 pm: Meanwhile, a crucial Congress Legislature Party meeting is underway in Chandigarh today. The party may decide on the next chief minister. The meeting is being attended by Navjot Singh Sidhu, Harish Rawat among other senior leaders.
05:03 pm: "I am in the Congress party, will consult with my supporters and decide the future course of action," Captain Amarinder Singh said after resigning.
04:51 pm: Addressing a presser after resiging as CM, Captain Amarinder Singh said the Congress party can appoint whosoever it wants as new Chief Minister. Will decide on my political future after meeting people who have been with me for long.
04:40 pm: Captain Amarinder Singh resigns as Punjab Chief Minister.  
04:35 pm: Captain Amarinder Singh's son Raninder Singh has tweeted that his father is going to resign as Punjab Chief Minister. Raninder Singh took to the micro-blogging site and said, "Haha indeed indeed must go now as I am proud to accompany my father to Raj Bhawan when he submits his resignation as CM of Punjab and leads us as head of our family into a new beginning at all."
03:49 pm: Punjab Chief Minister Captain Amarinder Singh will address a press conference at Punjab Raj Bhawan Gate at 4:30 pm, his media advisor Raveen Thukral informed.
03:42 pm: The meeting between Punjab CM Captain Amarinder Singh and party MLAs who are loyal to him is underway at his official residence in Chandigarh.
03:38 pm: Congress Legislature Party (CLP) meeting at 5 PM 
03:30 pm: Amarinder Singh to meet Governor at 4:30 pm 
03:17 pm: Punjab CM Amarinder Singh is likely to resign after meeting Governor Banwarilal Purohit
03:06 pm: Sunil Jakhar is the topmost contender to replace Amarinder Singh as Punjab CM, say sources 
02:48 pm: Meeting at Amarinder Singh's official residence begins. Chief Minister's wife Preneet Kaur also present 
02:36 pm: Amarinder Singh reaches his official residence in Chandigarh to meet party MLAs
02:25 pm: Rahul Gandhi leaves from party's 15 GRG war room
02:16 pm: Amarinder Singh to meet Punjab Governor post meeting with MLAs
02:03 pm: Navjot Singh Sidhu receives Harish Rawat, Harish Chaudhary and Ajay Maken at the Chandigarh airport
01:57 pm: Congress high command asks MLAs to skip meeting called by Amarinder Singh at 2 pm. They have been asked to put forth their suggestions in the meeting scheduled for 5 pm, say sources
01:39 pm: All Punjab cabinet ministers have been called to the PCC office, say sources
01:35 pm: Punjab ministers arrive at the party office in Chandigarh
12:43 pm: Congress leaders from Delhi set to land in Chandigarh by 1:15 pm
12:36 pm: Amrinder Singh has conveyed to some senior leaders of the party that he won't be able to continue if he is humiliated like this, say sources
12:28 pm: Amarinder Singh has called a meeting of his camp at 2 pm, say sources 
12:07 pm: Pargat Singh - "Meeting (CLP meet) has been called. Things will be discussed in the meeting." The statement came when asked about reports that Capt Amarinder Singh has been asked to step down as CM and names of Ambika Soni, Sunil Jakhar and others are coming up as probables for CM
11:44 am: Ajay Maken - "I'm going to Punjab for the state Congress Legislative Party (CLP) meeting. I don't know (who all will participate) but it is a meeting of the Congress Legislative Party. There is no turmoil, everything is fine."
10:33 am: Pargat Singh - "Party has some internal policies, the meeting has been called to discuss the same. There's no trouble (within the party), I think everyone has a point of view & it should be heard in CLP meeting. What is the problem?"
09:08 am: Harish Rawat will reach Chandigarh later today along with Ajay Maken and Harish Chaudhary, who have been appointed as an observer by Sonia Gandhi
The background
Sources close to Rawat have denied that the MLAs demanded to resolve the ongoing rift from the party's interim chief Sonia Gandhi. However, a senior leader from the state unit of the party said that around 40 MLAs wrote a letter to Sonia Gandhi to reconsider the leadership of state Chief Minister Captain Amarinder Singh and requested for a CLP meeting to discuss the matter. Today's legislative party meeting is expected to be a show of strength for both sides.
This comes as a change of guard in Punjab with the appointment of new state Congress chief Navjot Singh Sidhu, a Cabinet reshuffle was scheduled on the cards. However, the reshuffling seems to have erupted the infighting in the state. 
A delegation of MLAs and Ministers who are supposed to be from Navjot Singh Sidhu camp met Harish Rawat in Dehradun two weeks ago and asked for his intervention. As a result, the party has not yet been able to give a green signal to the Cabinet reshuffle.
Now a large section of party MLAs is on the side of Sidhu while party MPs from Punjab, Ministers and several other MLAs are supporting chief minister Captain Amarinder Singh.
Meanwhile, in the Cabinet rejig, which is very likely, few state ministers, who are on the verge of losing the membership to the Cabinet, are fearing the chance to not get party's ticket this time, said a senior party leader.
(With inputs from ANI)
ALSO READ | 'Humiliated' Captain Amarinder Singh resigns as Punjab CM, along with his council of ministers
Also Read | Harish Rawat meets Sonia Gandhi