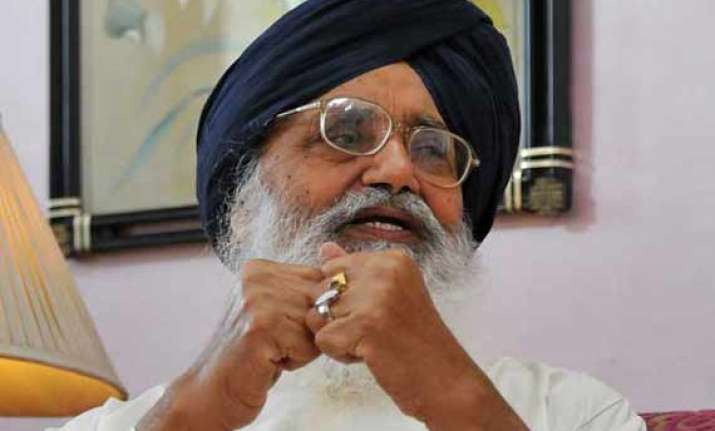 Chandigarh: Ruling Shiromani Akali Dal (SAD) and Congress won one seat each in the by-polls to Patiala (urban) and Talwandi Sabo Assembly seats today but the Aam Aadmi Party (AAP) finished a poor third.  It was a gain for ruling SAD which fought a strong anti-incumbency factor to wrest control over Talwandi Sabo seat from the Congress.
Both Patiala (urban) and Talwandi Sabo seats were with the Congress before they fell vacant.
Patiala seat fell vacant after sitting Congress MLA and former Chief Minister Amarinder Singh got elected to Lok Sabha from Amritsar, whereas Talwandi Sabo Assembly seat faced by-poll as sitting Congress MLA Jeet Mohinder Sidhu deserted the party to join the ruling SAD.
Talwandi Sabo Assembly under Bathinda district was retained by SAD's Harsimrat Kaur Badal, wife of Punjab Deputy Chief Minister Sukhbir Singh Badal in the recently held Lok Sabha polls.
After the election, Harsimrat was given a ministerial berth in the Narendra Modi cabinet.  
Chief Minister Parkash Singh Badal and his son Sukhbir had campaigned vigorously in Talwandi Sabo leaving no stone unturned to ensure the victory of party candidate and "turncoat" Sidhu.
Patiala's royal family maintained its stronghold on Patiala seat, considered to be the strong bastion of the family.
After retaining Patiala seat, Amarinder Singh had emerged as a strong leader of the party in Punjab. He had limited his campaigning for his wife in the run up to the by-polls to Patiala seat.
Preneet, a three time MP was defeated by AAP's Dharamvira Gandhi in the Lok Sabha polls.
While Amarinder preferred to campaign for his wife, his bete noire and Punjab Congress chief Partap Singh Bajwa confined his campaigning to Talwandi Sabo.  AAP which sprung a surprise in the recently held Lok Sabha polls by winning four out of total 13 seats in Punjab, performed badly in the by-polls as its candidates finished third.
Preneet, wife of former chief minister Amarinder Singh, won over her nearest SAD rival by a margin of over 23,282 votes, an election office spokesman said.
Kaur polled 52,967 votes, SAD nominee Bhagwan Dass Juneja 29,685 and AAP candidate Harjit S Adaltiwala 5,724 votes.  AAP's candidate lost his security deposit, an election office spokesman said.
Patiala's SAD candidate Juneja not only lost the poll, his son died of cardiac arrest last night.  Keeping this in mind, Preneet canceled her victory procession and expressed sympathies with the bereaved family.  
In Talwandi Sabo, SAD's Jeet Mohinder Singh Sidhu won by a margin of 46,642 votes against his nearest Congress rival Harminder Singh Jassi, a former Congress MLA and close relative of Haryana's Sirsa-based Dera Sacha Sauda sect Gurmeet Ram Rahim Singh.
According to an election office spokesman, Sidhu polled 71,747 votes, Jassi 25,105, AAP's Baljinder Kaur 13,899.  Balkar Singh, who was first declared as party candidate by AAP and later replaced by Baljinder Kaur, polled 6,305 votes.
Sidhu was once a close associate of Amarinder Singh.  While a total of eight contestants fought for Patiala seat, seven candidates contested from Talwandi Sabo.  Both the seats witnessed a triangular contest between SAD, Congress and AAP.
In the 117-member Punjab Assembly, ruling SAD's strength had increased to 57 MLAs, while its ally BJP has 12, Congress moved to 45 members and independents three.  
After the results, SAD fell one short of getting simple majority as it needed a win on both the assembly seats for it.  SAD has alliance with BJP in the state.
The by-polls to the two seats were held on August 21.  While Talwandi Sabo, which falls under Bathinda Lok Sabha constituency from where Sukhbir's wife Harsimrat Kaur won, had witnessed 82.34 per cent turnout, 60 per cent polling was recorded in Patiala seat, a traditional bastion of Patiala royal family of Amarinder.
Meanwhile, reacting over the by-poll results, Punjab's AAP spokesman H S Phoolka said that the party welcomes the peoples' verdict.
"AAP is there to provide an alternative to the people and also clean politics...it is for the people to decide what they want," he said, adding that AAP was not greedy for posts.  "People wanted change in the political system that is why the AAP existed," he said.
Both Preneet and Sidhu asserted that they would fight for the cause of their respective assembly segments in the Vidhan Sabha.