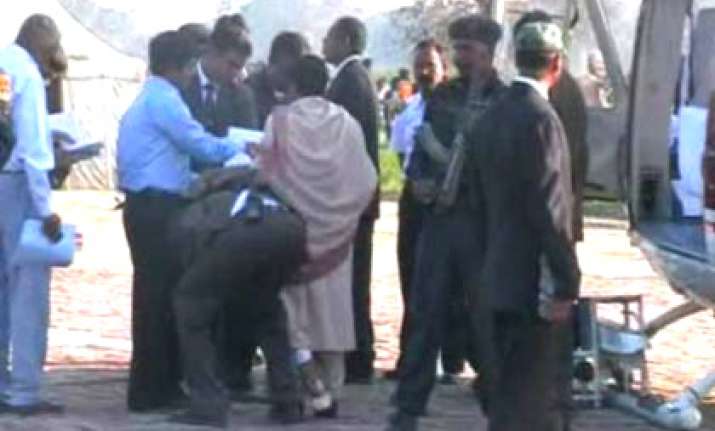 Auraiya (UP), Feb 8: Kicking up a controversy, a personal security officer of Uttar Pradesh Chief Minister Mayawati bent low to wipe the dust from her shoes with his handkerchief during her visit to Auraiya district.
The incident that took place on Sunday when Mayawati was visiting Naunipur village in the district fuelled a political storm with her opponents seizing on the opportunity to slam her but the ruling BSP said nothing much should be read into the act of shoe-wiping calling it a "non-issue."
A video footage of the incident shortly after the BSP supremo alighted from a helicopter showed the PSO taking a handkerchief out of his pocket and bending down to wipe the dust from her footwear. The footage was telecast by TV channels.
The chief minister appeared to be unmindful of the PSO's act while she carried on with her conversation with officials who had converged at the tarmac of the helipad here, about 150 km from Lucknow, to welcome her.
One official also appeared to watching with intent the shoe cleaning by the PSO who has been working with her for several years and was close to BSP founder Kanshi Ram.
Singh, a retired police officer currently on extension, supervises the personal security of Mayawati, sources here said. Singh is reported to have said that his act, which has triggered allegations of sycophancy at its heights, was in line of duty.
Opposition parties slammed the "feudalistic" attitude of the chief minister.
"The manner in which the chief minister is behaving and working is shameful and a security personnel wiping her shoes is a deplorable incident," SP state president Akhilesh Yadav alleged.
He said that it was a sad to see that a person entrusted with the security was wiping Mayawati's shoes.
"If this government continues then even the officials will have to do the same act," he alleged.
"She is starting new traditions in politics. First she got her statues installed now this shameful incident has come to the fore. This is a feudalistic attitude," Yadav said.
Congress spokesman Akhilesh Pratap Singh said, "Mayawati, who rode to power by claiming to fight against feudalism, has adopted the same  culture after becoming the Chief Minister".
"Getting shoes wiped by a government official is wrong and the security personnel should not have done such an act for the sake of self-respect," he said.
But the BSP thinks otherwise.
BSP MLA Nawab Seyd Kazim Ali said, "I don't think this is really an issue at all because the chief minister never...I don't think she asked to security officer to clean her shoes or anything and this is something which is a non-issue if a handkerchief falls and if somebody picks it up and so you can't make that into an issue".
"If I go in to a village and there is a puddle of water and If I step into the puddle of water, the people of the village, somebody will come and clean my shoes," Ali said asking as to why everybody was "gunning" for the chief minister.
Former UP chief minister Mulayam Singh Yadav said, "Officers in Uttar Pradesh should not go to this level. There is no law and order in the state."
In New Delhi, Congress spokesman Shakeel Ahmed said officials and political leaders should ensure that they do not lower their image by incidents like dusting of shoes.
"The chief minister, any political leader or the officer who was involved in these type of activities must keep one thing in mind--their own image and image of their institution if they are working for police force or civil services. Their image should not be brought to a low level," he said.
Jammu and Kashmir Chief Minister Omar Abdullah also waded into the controversy and tweeted that he would not let his security guards carry his briefcase.
"I won't let my security chaps carry my briefcase, but I guess to each their own," Abdullah wrote on Twitter. PTI