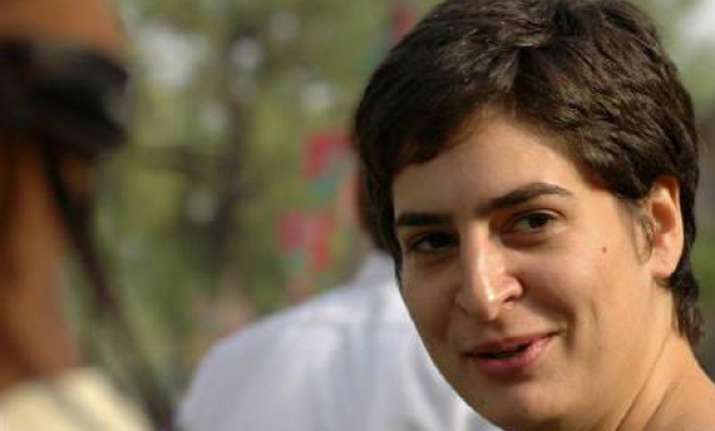 Rae Bareli, Feb 5: Congress president Sonia Gandhi's daughter  Priyanka Vadra today said her stand on not joining active politics remains unchanged even as she took on the BJP for attacking her, asking if it preferred her venturing into politics.

"I have been answering this question since I was 15 years old. And the answer is constant and the same. If you do not want to accept my answer to this, and of course, if I want to enter politics, you will know immediately," the 40-year-old daughter of Congress chief Sonia Gandhi told reporters here.

She was asked if she has any plans of entering politics and what was preventing her from taking the plunge.

Priyanka also fielded questions on attacks from BJP and BSP leaders who called her and her brother- Congress General Secretary and Amethi MP Rahul Gandhi- a "seasonal frog" (barsaati mendhak), seen only during the polls.

She maintained that it can apply to her but not to her brother.

"I come here for polls. That is known. There is nothing to hide in this. Rahul and Soniaji come here often. When I used to look after the constituency on Soniaji's behalf, I used to visit often," she said.

Batting for Rahul, Priyanka insisted that he visits the place often and has been working in the area for years.  "Every second day he is here. He stays in somebody's house or there is some event...," she said.  Asked about attacks on her from the opposition, she said, "I am not in politics. If they want to attack me they can without doubt do so.... Do they want me to enter politics?...  What do they prefer—that I stay out or enter politics? Ask Rajnath Singh and Uma Bharti."

Asked about her nickname, "Bhaiyaaji", Priyanka maintained that she did not like it but it seems to have stuck with the locals.

"SPG (Special Protection Group) gave me this nickname when I was 13-14 years old. I can tell you I did not like it when I got it. It filtered... watered down to workers here also. I had short hair... was very boyish when I was a kid," she said, explaining how the nickname came into being.