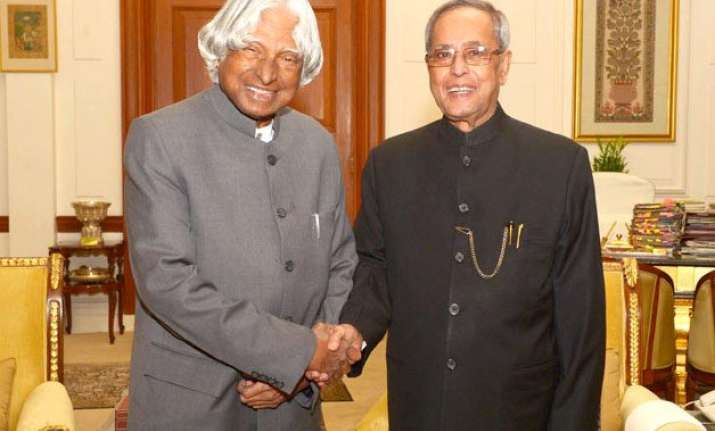 On board special flight: APJ Abdul Kalam who worked to strengthen the country's defence and security backbone was also a "poet" at heart, President Pranab Mukherjee said today while reminiscing his "friendship" with the former Supreme Commander of the armed forces.
"He enhanced defence capabilities of the country. He used to write poems. Sometimes when we used to go to pay respects to the departed soldiers at Amar Jawan Jyoti, he will compose a poem, he would not recite there, but he would quietly pass on the poem.... I received two-three poems," Mukherjee said on a special flight to the national capital.
The President said his personal interaction with him was very deep as initially in UPA-I Mukherjee was the defence minister and Kalam was the Supreme Commander of the armed forces.
"Besides, he was very much interested in Bramhos missile and asked me how to promote it. And now with his direct encouragement, we are having Bramhos missiles for all three services. Earlier, it was only surface-to-surface, now surface-to-air, air-to-air and from navy to air. And it is the only indigenous cruise missile. It was completely done by him and his other colleague. A Sivathanu Pillai was his chosen person," he said.
Mukherjee was speaking to reporters while rushing to the national capital, cancelling all his programmes scheduled in Karnataka after hearing of the death of the former President in Shillong yesterday.
Later, the President was at the Delhi airport today where he paid homage to Kalam whose mortal remains were brought from Shillong.
Calling Kalam a mighty mind, the President said "his void cannot be filled."
"Really I felt some sort of vacuum when I heard the news. I did not expect although he was aging but was hail and hearty and always jovial, brilliant, his mind never ceased to function. He has a mighty mind," Mukherjee said.