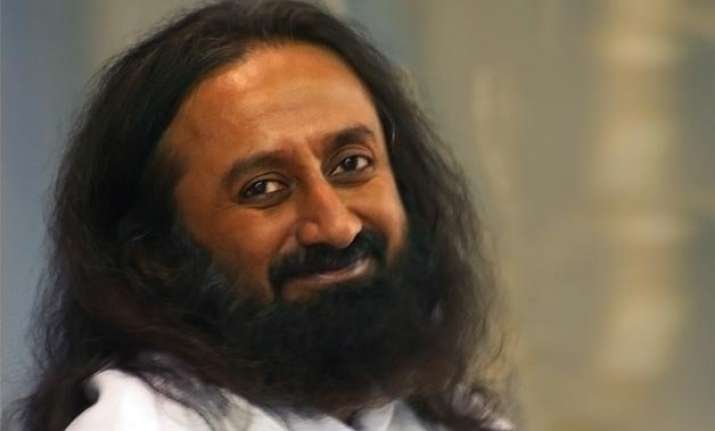 New Delhi: President Pranab Mukherjee has opted out of Sri Sri Ravi Shankar's 'World Culture Festival' in the backdrop of several controversies swirling around the three day event that is set to start on Friday.
The announcement came on Monday from Rashtrapati Bhawan, a day ahead of National Green Tribunal's crucial hearing which will resume today on pleas seeking cancellation of the event on the Yamuna flood plains to celebrate 35 years of the foundation.
Eyebrows are also being raised over the way the Army has been called in to build pontoon bridges on the Yamuna for the event being organised by the Art of Living Foundation
The Indian Army, which has built a pontoon bridge on the Yamuna for the festival, is likely to build one more to ease movement of a large number of people expected to attend the controversy-ridden mega event.
A bench headed by NGT Chairperson Swatanter Kumar will hear the matter in which Delhi Development Authority (DDA), Uttar Pradesh and Delhi government will make their submissions with regard to grant of permission to the festival.
On March 3, DDA had submitted that it had granted conditional permission for organising the event and had no idea about the magnitude of the programme.
The DDA had denied the suggestion that it had provided 3.5 hectare of land for a parking lot on the banks of the river and said it had only provided over 20 hectares for the recreational programme.
The NGT is also hearing a plea against the foundation's plan to release 'enzymes' into 17 drains joining Yamuna for cleaning the river.
Earlier, the green panel had issued notices to the Delhi government, DDA and Art of Living Foundation on another plea seeking stoppage of ongoing construction on the flood plains.
It had also constituted an expert committee headed by Water Resources Secretary Shashi Shekhar to inspect the site of the proposed festival.
The Art of Living foundation, which is organising the function, will have yoga and meditation sessions, peace prayers by Sanskrit scholars and traditional cultural performances from India and abroad.