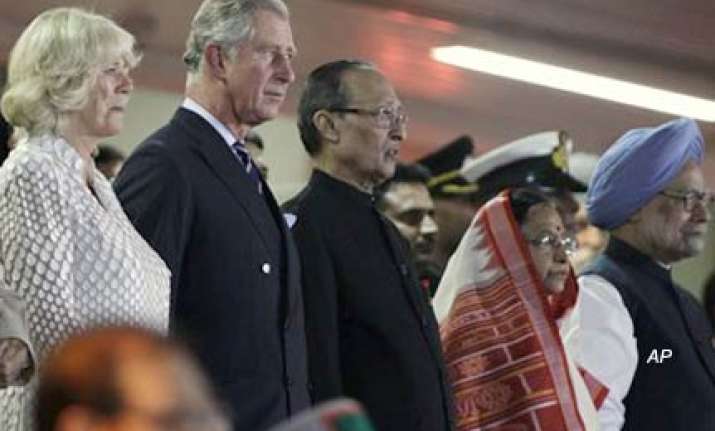 New Delhi: The Indian Express reported on Tuesday a major protocol issue in which the Secretary to the President Christy Fernandez asked the Prime Minister Dr Manmohan Singh to shift from his seat as the President Pratibha Patil arrived at the JLN Stadium for the Opening Ceremony of Commonwealth Games.  
What has miffed many, the report says, is that Christy Fernandez, Secretary to President tapped the Prime Minister on his shoulder to ask him to shift seats. This act did not go well with the PM's security staff, the report says.  
Rashtrapati Bhavan denied that the Prime Minister was tapped on his shoulder, but admitted that Fernandez did ask the Prime Minister to shift from his seat in order to accommodate the President's husband Devisingh Patil, says the report.  This breach of protocol in the royal box by the President's staff has left both the security establishment and the Prime Minister's Office (PMO) pretty miffed.
As per the agreed seating arrangement, President Pratibha Patil was to be seated in the centre with Prince Charles to her right and Prime Minister Manmohan Singh to her left. But when the President arrived, a senior member of her staff asked the Prime Minister to shift from his seat to accommodate her husband, Devi Singh Shekhawat.
The presence of personal butlers from Rashtrapati Bhavan in the royal box who served only the President against all planned arrangements has also embarrassed many.
As the ceremony began, Shekhawat ended up sitting between President Patil and Prince Charles, leaving little scope for them to interact.
Similarly, Camilla, Duchess of Cornwall, was to be seated next to UPA chairperson Sonia Gandhi as per the arrangement decided earlier. But at the last minute, she sat next to the Prince, throwing the entire arrangement into disarray.
The presence of the President's personal butlers in the royal box also embarrassed protocol officers. While it was understood that all top dignitaries would be treated equally, the butlers ended up serving only the President and her husband.
It was only after prompting by senior officials that the butlers were also asked to serve on the Prince and his wife. While Prince Charles declined refreshments, Camilla ended up asking for a glass of water.