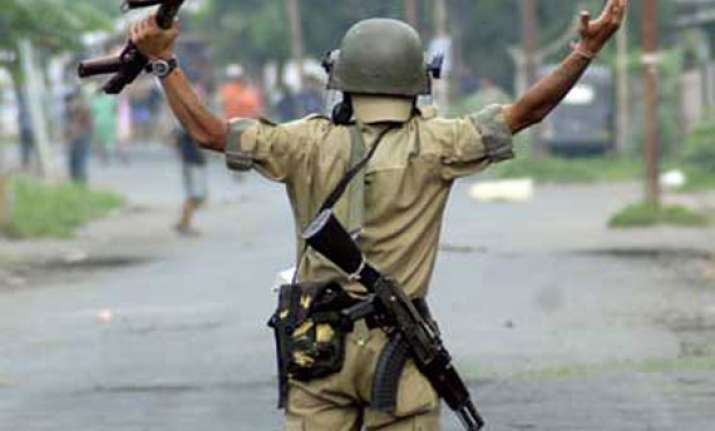 Imphal, Nov 27: A civilian was injured when a powerful bomb, planted by suspected militants, exploded in Imphal east district of Manipur on Tuesday, police said.
Sources said the bomb, made of improvised explosive device (IED), was placed at a roadside in Chairen area when it went off at 10.30 am.

The road was frequently used by security personnel including those from paramilitary forces to travel between Imphal and their camps at places near Chairen.
Police said the explosion occurred seconds after the security convoy (battalion or unit not yet known) passed through the area.

A farmer from a nearby locality who was going to his paddy field was injured by the splinters, sources said, adding that he was taken to a nearby hospital where his condition was stated to be out of danger.

Places like Manipur jail at Sajiwa, some Manipur Rifles battalion and several para-military posts are just a few kilometres away from Chairen area where the explosion occurred, sources said.

The area was immediately cordoned off. It was also not yet known whether the bomb was remote controlled or had a timer attached to it, sources said.

Several bomb explosions targeting security and police personnel have been reported in the past few months from different parts of the state.

In another incident late Monday night, suspected militants hurled a grenade at the house of a government contractor at Ningthem Pukhri Mapal area in Imphal east district but no one was injured.

Window panes of three nearby houses including contractor Kh. Surjit's were damaged in the explosion, official sources said adding that Surjit and his family were present at the time of the explosion.

Police said they would investigate whether it was connected with extortion case although family members of the contractor said no militant outfit had earlier served them any monetary demand notice.

We would also investigate whether it was connected with contract work of a rival contractor given to Surjit, police said.