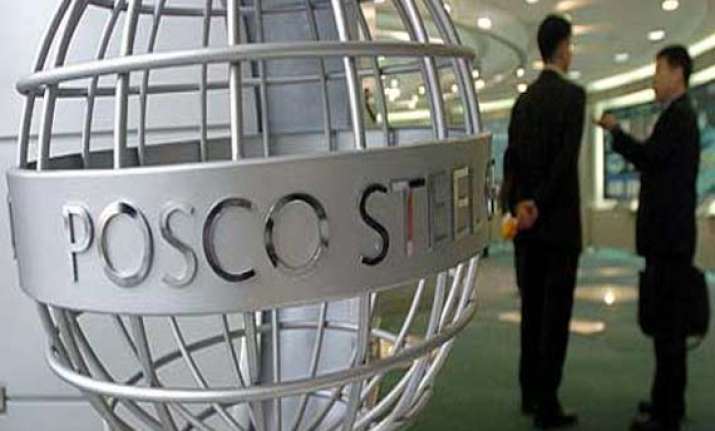 Paradip, Odisha, Feb 6: Renewed land acquisition for Rs 52,000 crore Posco steel plant in Odisha's Jagatsinghpur district since Sunday, was affected for sometime on Tuesday following a clash between anti-project activists and police with the protesters claiming injuries to some.
The agitators, including women and children, gathered outside Gobindpur village where land acquisition was in progress and clashed with police personnel demanding withdrawal of force and stalling the operation for sometime.
However, district Collector S K Mallick claimed that land acquisition process, including dismantling of betel-vines, continued as per plan.
"Demolition of betel vines was carried out manually during last two days. The administration has now started using machines for the purpose to speed up the process", Additional District Magistrate, Paradip Surjeet Das said.
"So far, 60 acres of the required additional 700 acres has been acquired since fresh acquisition began at Gobindpur on Sunday. It will gain pace hence forward", he said adding earlier 2000 acres had been acquired in the proposed site for the South Korean steel major's project.
Stepping up the demand for withdrawal of police force from the area, Posco Pratirodh Sangram Samiti (PPSS) leader Abhay Sahu today launched a hunger strike at nearby Patna Hat, while a large number of children joined the demonstration after shutting down their schools.
Police and demonstrators came face-to-face as students from about nine schools from nearby Dhinkia, Patna and Gobindpur gathered on the outskirts of Gobindpur.
Though Sahu claimed that at least five persons - three women and two boys - were injured in police action during the clash, Superintendent of Police Satyabrat Bhoi said the operation went on in a peaceful and smooth manner and that no injury was caused to anyone.
Land acquisition for the project, which resumed after a gap of more than one year, continued peacefully. Betel vines of only those willing to hand over their land are being demolished with payment of compensation on the spot, the ADM said adding more than 20 betel vines were dismantled today.
Meanwhile, a BJP delegation visited the proposed steel plant site and expressed concern over "tension" in the area with presence of police force.
The two-member BJP team comprising senior leaders, Ashok Sahu and Bijaylaxmi Mishra, interacted with the protesters in a bid to assess the situation at the plant site villages, sources said.
In the state capital, a Congress delegation submitted a memorandum to Governor M C Bhandare and demanded immediate steps to shift the plant site elsewhere.
Alleging police crackdown on anti-Posco activists, the Congress leaders led by PCC President Niranjan Patnaik said the plant can be relocated at another place which is lying vacant and not very far from the present site.
Another delegation of CPI, CPI-M, Samajwadi Party, RJD and Forward Bloc also met the Governor and submitted a memorandum seeking withdrawal of police force from the proposed Posco project site near Paradip.
A senior district official claimed that the land acquisition process progressed peacefully and so far altogether 51 betel vines on more than 60 acres have been dismantled and over Rs 82 lakh paid as compensation to land losers since February 3.
The District Collector and the Superintendent of Police were camping at the spot to ensure smooth progress of the operation while 14 platoons of the police were deployed in the area to ward off any trouble.
On the other hand, project opponents stepped up their stir at Patna under Dhinkia gram panchayat, considered the epi-centre of anti-Posco agitation, and one of the three gram panchayats involved in the Posco imbroglio with protesters, including women and children, sealing Gobindpur-Dhinkia road.
The other two gram panchayats located in the proposed Posco project site near Paradip are Gobindpur and Gadakujanga.
Refuting allegation levelled by anti-Posco leaders that land acquisition was being carried out forcibly in the area, a senior official said betel vines of those villagers who had given their consent in writing were being demolished.
Police force has been deployed as the villagers who were handing over their betel-vines wanted full protection, the district collector said.