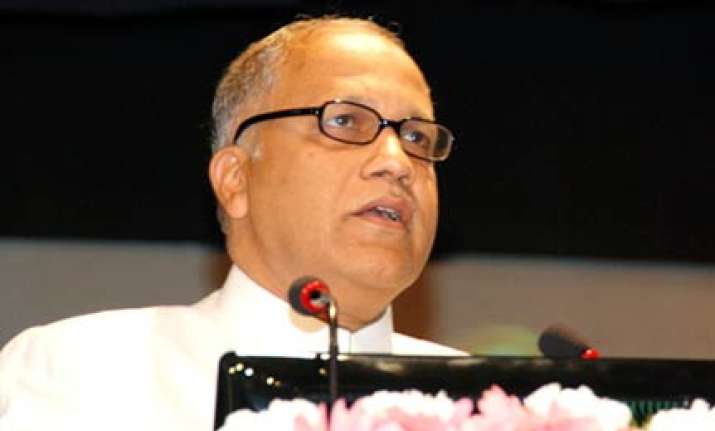 Goa Chief Minister Digamber Kamat has claimed he will get the Finance Bill passed on the floor of the House, even as a group of seven legislators decided not to support the bill forcing the state government on the brink of crisis.
Seven non-Congress legislators with the current coalition government, this afternoon, said that the Chief Minister should "not consider" their support for the Finance Bill during the ensuing state legislative assembly session beginning from March 22.
Kamat who also holds Finance portfolio is expected to present the state budget on March 23.
Group seven spokesmen Ramakrishna Dhavalikar, a MGP legislator, told reporters on Friday night that they had demanded the Chief Minister that Congress Minister Churchill Alemao and Congress legislative party (CLP) spokesman Mauvin Godinho should tender their apology within two days. The group is angry with the duo for speaking against NCP during a recent press conference.
"The deadline got over today  We have decided to take further step... Government should not consider our support for the finance bill," Dhavalikar said.
Earlier in the day, five ministers from the group boycotted the state cabinet meeting held at Secretariat as a mark of protest.
The group comprises of three Nationalist Congress Party (NCP), two Maharashtrawadi Gomantak Party (MGP), a United Goans Democratic Party (UGDP) and an Independent MLA.
In the 40 seat assembly, Congress needs support of these seven legislators to get the state budget passed on the floor. The current composition of the assembly has Congress (18), BJP (14), NCP (3), MGP (2), UGDP(1) and two Independents.
Kamat talking to reporters at a sideline of a function said that he is confident to wade through the situation.
"Whatever issues they (group seven) had conveyed to me, I have conveyed them to my high command. The high command will talk to NCP top leaders to resolve the issue," he said.
The Chief Minister said NCP is in coalition with Congress in Centre and even in Maharashtra, so there is no possibility of them pulling out.
The trouble within the ruling coalition began a fortnight ago when Kamat unsuccessfully tried to drop MGP minister Ramakrishna Dhavalikar from the cabinet to accommodate Congress legislator Pandurang Madkaikar.
Sources stated that NCP supremo Sharad Pawar had personally intervened to save Dhavalikar from losing his ministerial berth. Since then, all the non-Congress legislators have stuck together to form a pressure group.
Bharatiya Janata party, the main opposition said that they have no role to play in the current political situation.
"We will wait and watch. We are not sure whether the warning given by group seven is really serious or just a threatening," leader of Opposition Manohar Parrikar told reporters in the afternoon.
Terming Congress and NCP as husband and wife-like combination, he said that their fights should not be taken seriously.
Parrikar refused to comment whether the party is ready to form alternate government, if eventualities arise. PTI