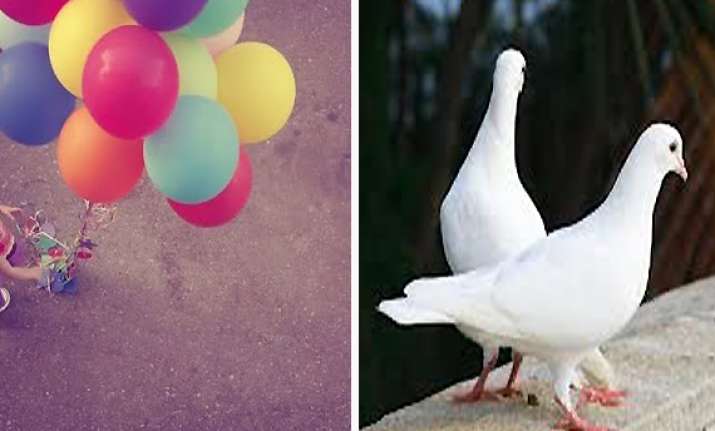 Suchetgarh: Calling for an end to tensions between India and Pakistan, the Socialistic Democratic Party (SDP) on Wednesday sent balloons carrying 'messages of love' and white pigeons across the border.
"We offer love to Pakistan with our belief that love begets love," the Party said in its message written on balloons flown to Pakistan from Zeroline at Octerio Border Out Post (BoP), 45 kms from here.
The relations between the two nations took a hit after Pakistani troops brutally beheaded two jawans-- Lance Naiks Sudhakar Singh and Hemaraj Singh after intrusion in Poonch sector on January 8 this year.
"Tensions ran high after the beheading of Hemraj but it is the greatness of our democracy that we didn't wage war with Pakistan," Party President Darakshan Andrabi, said.
Paying tribute to the martyred solider during 'Indo-Pak Love and Peace Day' organised by SDP, she said the disrespect of Indian soldiers was intolerable.
"We cannot tolerate disrespect of our soldiers. We request the Pakistan army and their political leadership to desist from any more hate game," she told reporters.
Andrabi said that it has been the policy of Pak government to keep the borders tense.
"It is the policy matter. It is like who wants to be in the breaking news and Pakistan's policy has always been that of propagating terror and hatred. But we are worshippers of love and I wish love should prevail between the two countries," she said.
"There is always politics involved in it. Leaders of both the countries have to save their chair, otherwise no one wants be at war. The common people unnecessarily get involved in it," Andrabi alleged.
On the question of Yasin Malik, president of Jammu and Kashmir Liberation Front (JKLF), sharing the dais with the master mind of Mumbai terror attack, Hafiz Saeed, Andrabi said he should not have been allowed to visit Pakistan at the first place.
"He went to Pakistan on the Indian passport, he should not have been given the permission. If you (government) have allowed him, he is in all likelihood going to meet Hafiz Sayeed," she said.
Asked whether action should be taken against him, SDP President said it was for the government to decide. But Andrabi condemned Malik's stand on Parliament attack convict Afzal Guru's execution saying that it was "wrong".
Earlier Andrabi, along with few others of her party, claimed to have met with members of an NGO from Pakistan at the 918 stone and exchange pleasantries with them.