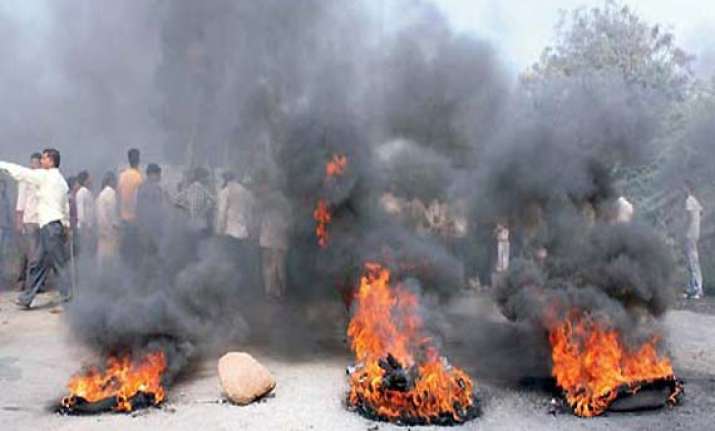 Sangli (Maharashtra), Nov 14: A farmer was injured when police opened fire to quell a violent group during the ongoing agitation of sugarcane growers which continued for the eighth day, police said.
The incident occurred in Astha village of Sangli district this afternoon when a mmob of farmers damaged a police vehicle and pelted stones at the police.
Police said they warned the agitators and when the crowds could not be controlled, they fired in the air and shot 25-year-old Pravin Patil in the leg. He has been rushed to a hospital.
The agitation took a violent turn after the sudden arrest of the Swabhimani Shetkari Sanghatana (SSS) chief and MP Raju Shetty, and other leaders last Monday.
In the agitations to protest the arrests, a farmer activist, Chandrakant Nalawade, was killed in police firing in Vasgade village in the district.
The anti-arrests protests have seen roads being blocked, over three dozen state transport buses torched or damaged, and hundreds of bus services in Sangli, Satara, Pune and Solapur districts cancelled, stranding thousands of Diwali holiday crowds.
The protestors also damaged scores of police and private vehicles.
The sugarcane farmers groups have been demanding a price of Rs.3,000 per tonne, but sugar factories are willing ready to pay only Rs.2,300 per tonne.
Agriculture Minister Sharad Pawar Tuesday gave an earful to SSS chief Shetty, alleging his agitation was targeted against specific sugarcane factories.
Meanwhile, the Maharashtra State Road Transport Corporation (MSRTC) has decided to operate all its bus services to clear the rush of holiday crowds.
In a related development, social activist Anna Hazare Wednesday extended his support to the farmers' demands, but said they should not resort to violence.