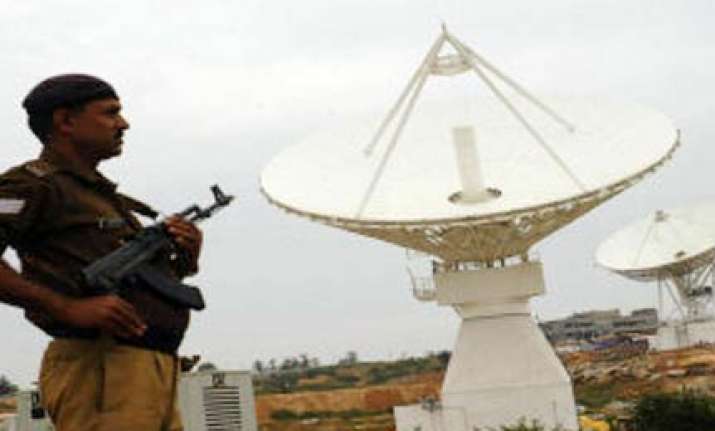 Mystery shrouded a reported shooting incident at the ISRO complex near Bangalore  with a security guard claiming that two unidentified persons shot at him in the wee hours but police raised doubts and virtually ruled out any terror attack.
ISRO sources said a CISF constable at the Indian Deep Space Network facility at Byalalu on the outskirts of the city reported spotting two men in khaki uniform, saying they fired at him with small pistols and that he had retaliated. The facility has a tracking station for ISRO's satellite missions.
"There are no signs of any firing from outside", ADGP(Law and Order) A R Infant told reporters. "On the face of it it does not appear to be a terror attack', he said.
Infant said the CISF constable Jadhav who was on duty at the main gate, claimed he saw two persons moving around in a suspicious manner in khakhi uniform at 3.20 am.
He said Jadhav had claimed the duo opened fire towards ISRO main gate, after which he retaliated and fired eight rounds. Two other CISF personnel on duty were not at the spot during the alleged firing and came there later. "Only six cartridges out of the eight rounds claimed to have been fired by Jadav were found while no empties were traced outside the compound," Infant said.
IGP (Central Range) Kamal Pant and Superintendent of Police Ramanagaram district B S Bisnalli visited the spot.
"It is too early to speculate on the matter. Jadhav along with the other security personnel and staff of ISDN are all being questioned," Infant said. "Since it was dark, it is really not known whether the perimeter of the complex was fully lit," he said. The case has been registered and the matter is being investigated. "Nothing can be said till the investigation is completed," Infant said.
To a question whether there was any specific alert about the ISDN, he said "general security alerts at vital installations have been there and accordingly measures are also taken. However there was no specific alert about ISDN."
No bullet marks were found on the boundary walls nor any empty cartridges at the spot from where the duo reportedly opened fire, Infant said, doubting the claim of CISF constable Jadhav that he returned fire from the main gate during the incident that purportedly took place at 3.20 A.M. Two other CISF personnel on duty were not at the spot during the alleged firing and came there later.
In Delhi, the Home Ministry said it has sought a report from the Karnataka government on the sequence of events. Based on preliminary information, Home Minister P Chidambaram said, "This seems to be an amateurish attempt made by two men with country-made pistols."
Chidamabaram said he has asked CISF, which is in-charge of the security of ISRO, to do "another security review" of the area.  PTI