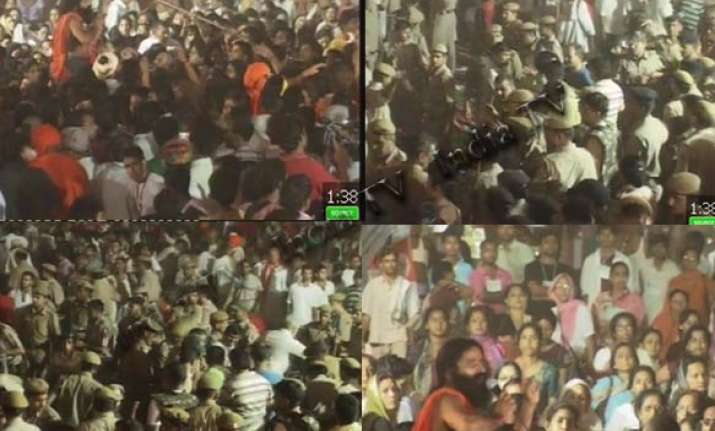 New Delhi, Jun 5: The Delhi Police on Saturday night swung into action and used force and teargas to disperse thousands of supporters of yoga guru Swami Ramdev from the sit-in site at Ramlila Maidan. 

Several supporters were injured in the clashes. Those injured also included women who have been admitted to LNJP hospital, preliminary reports said.

As a large police force tried to surround the dais, Swami Ramdev jumped from the dais among his supporters. Scuffles broke out between Swami Ramdev's supporters and police. 

Women supporters of Swami Ramdev tore the police uniform of additional DCP D K Gupta to protest police action.Delhi Police Commissioner B K Gupta said Swami Ramdev has not been arrested but the permission to hold rally at Ramlila Maidan has been withdrawn in view of law and order situation. Gupta admitted, that police had to use teargas shells to disperse the protesters. 

A large number of police personnel descended at Ram Lila Maidan, the venue where Baba Ramdev was on a hunger-strike demanding action on blackmoney.

Chaos prevailed at the spot after around 1.10 am when news came that the yoga guru may be arrested after he decided to continue with his fast following with the worsening of stand-off between him and the government.

Soon, Ramdev's supporters formed human chains to prevent his arrest. Policemen were seen zeroing in at the stage where Ramdev was circled by a handful of supporters.

A police vehicle was seen entering at the site where chaos was seen, while Rapid Action Force (RAF) personnel were seen taking away some of the supporters from the site.

Banners were torn, mattresses and furniture lied all over the site.Parts of the stage also caught a minor fire that broke out during the melee.People were seen vacating the dais and the surrounding area after tear gas enveloped the whole place.