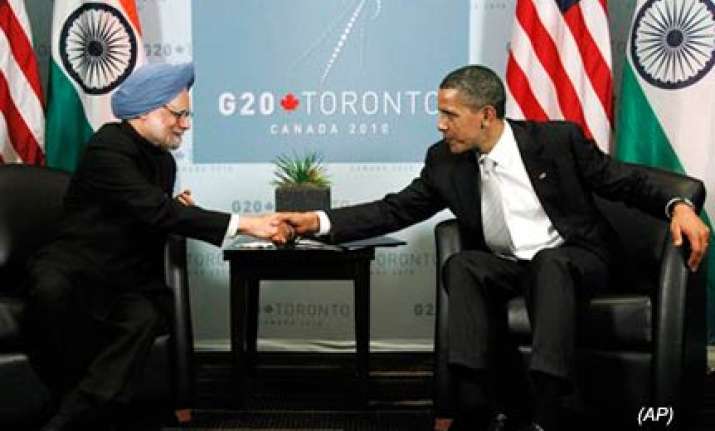 Toronto: India on Sunday told the US that Pakistan should realise the importance of the disclosures made by LeT operative David Headley and take action against terrorism emanating from its soil directed towards it.
India's concerns were conveyed by Prime Minister Manmohan Singh to US President Barack Obama during a half-hour meeting between them on the sidelines of the G-20 Summit here.
Briefing reporters about the meeting, Foreign Secretary Nirupama Rao said the two leaders discussed the situation in the region and they spoke of counter-terrorism in Afghanistan to stabilise the situation there. 
Singh briefed Obama about the peace initiatives with Pakistan but made it clear that Islamabad should abide by its commitment of not to allow terrorism emanating from its soil directed against India. 
The activities of Headley came up for discussion in the light of information coming out of Pakistani-American LeT operative and the two leaders also went over the fact whether Pakistan is serious in using this information in tackling terror in the region.
The Prime Minister told Obama that while peace initiatives had their place, it was for Pakistan to show whether it was serious about using that information to tackle terrorism in the region.
To a question, Rao said the issue of extradition of former Union Carbide Chief Warren Anderson did not come up during the meeting. 
When asked about Pakistan Interior Minister Rehman Malik's reported statement that it was not possible for either Pakistan or India to control the likes of LeT chief Hafiz Saeed, she said it was possible for Pakistan to control the activities of people like Saeed who were not doing right for relationship between the two countries.
She said Home Minister P Chidambaram during his trip to Pakistan had told them that it was India's hope that Pakistan continues to pay attention to the activities of Saeed it was still possible for Pakistan to take action against them.
The Foreign Secretary said the meeting between Singh and Obama was marked with warmth and cordiality.  They referred to the strategic partnership between the two sides and expressed satisifaction over the current momentum of the relations.
They discussed the situation in Afghanistan and resolved to fight terrorism.  Obama said he was looking forward to his visit to India in November and the Prime Minister emphasised that India was preparing eagerly for the visit.  The President, his wife and their children would be received very warmly in India.
Welcoming Singh, Obama called him a "good friend" and said he continues to believe that the extraordinary leadership that the Indian Prime Minister has provided not just to his country, but to the world, has helped "us navigate through some very difficult times."
In his opening remarks, the US President said he was very pleased to have accepted an invitation to visit India.
"It is a trip that I'm very much looking forward to, and I know that the Prime Minister and his gracious wife will extend great hospitality to us.
"We are also just excited because of the tremendous cultural, as well as political and social and economic examples that India is providing the world and has in the past," he said.
"Thank you so much for your friendship, and we look forward to working with you in the months to come, leading up to the visit, so that we know that we're going to have a very productive stay when we're in India," Obama said.
Heaping praises on Singh, Obama said at the G-20 Summit when the Prime Minister speaks people listen, particularly because of his deep knowledge of economic issues.
"As well as the fact that he understands that as India rises as a world power, not just a regional power, that it also has enormous responsibilities to work with the rest of the world community around issues of peace and prosperity," he said.
In his remarks, Singh said it was the common endeavour of both leaders to give the Indo-US strategic partnership a new trust, new meaning and new content.
Singh said he has every reason to believe that Obama will find it a productive and exciting journey to "a country of India's diversity, of India's complexity."
He said the two countries are engaged in getting rid of chronic poverty, ignorance and disease, which still afflict millions and millions of people.
"And it's our common desire to work together to get rid of this scourge in our lifetime. And in that, the United States' support means a great deal to us. Your personal commitment to social justice is something we cherish," he said.
The Prime Minister said a "very warm welcome" awaits Obama, the First Lady Michelle and their children when they visit India.
He said during the visit, Obama can see for himself what India is trying to do, the difficulties of managing social and economic transformation in the framework of a democracy committed to the rule of law, committed to all fundamental human freedoms.
"I think that's what India seeks to achieve," he said.
Obama also recalled the State Visit of Singh in November, when the two leaders decided to launch a Strategic Dialogue between the two countries.   
Prime Minister Manmohan Singh on Monday ruled out the possibility of nuclear material or equipment supplied to India under civil nuclear cooperation agreements being used for "any unintended purpose." 
"Nuclear material supplied to India will be fully safeguarded in terms of agreement signed with IAEA. We have fool-proof system of export controls. 
"We have complete civilian control and there is no scope for any nuclear material or equipment whatsoever being supplied going for any unintended purpose," Singh told a joint press conference with his Canadian counterpart Stephen Harper after the two countries signed a civil nuclear cooperation agreement.
He was responding to a question whether there were enough safeguards to prevent nuclear material coming to India under such agreements being used for any weapons programme.
India already has civil nuclear agreements with eight countries like the US, France and Russia. 
Replying to questions, Harper said Canada, which had imposed sanctions on India after the Pokhran-I and Pokhran-II atomic tests in 1971 and 1998, cannot live in the past.
"In relation to the nuclear cooperation, we have received all the reasons that we were looking. It is a good agreement. We got much more important reasons because we cannot live in the past of 1970s," Harper said. 
He said India is a "powerhouse that is going to play a very important role in the world.  "We are determined to develop cooperation not only for the sake of our industry, but it is also an agreement which is a symbol of our relationship," he said.
Breaking new grounds in their bilateral relationship, India and Canada on Monday  signed a civil nuclear cooperation agreement and strongly condemned terrorism in all its forms and manifestations. 
Prime Minister Manmohan Singh, the first Indian Head of the Government to visit Canada after I K Gujral's trip in Toronto 16 years ago, and his counterpart Stephen Harper hailed the signing of the nuclear agreement after their one-on-one and delegation level talks that will provide for cooperation in civil nuclear energy including import of uranium and equipment from Canada. 
The civil nuclear agreement was signed by Srikumar Banerjee, Secretary, Department of Atomic Energy and Canadian Foreign Minister Lawrence Cannon in the presence of the two Prime Ministers. 
The deal also envisages cooperation in fields of nuclear waste management and radiation safety.  The agreement assumes significance in the context of Canada's strong attitude in the past when it slaped sanctions against India after the Pokhran I and II tests in 1974 and 1998. 
A joint statement issued at the end of the meeting said the two Prime Ministers committed themselves to the ratification of the agreement and completion of all remaining steps necessary to ensure its early implementation.  They underscored the potential for mutually beneficial civil nuclear cooperation and trade. PTI