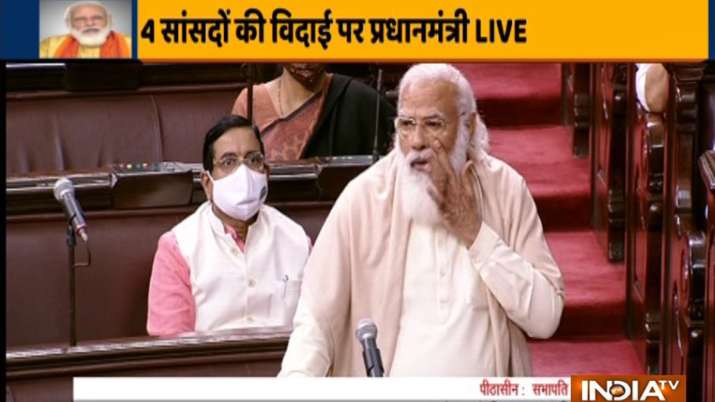 Prime Minister Narendra Modi on Tuesday heaped praise on Congress MP Ghulam Nabi Azad and got emotional while bidding farewell to the Leader of Opposition from Rajya Sabha. PM Modi said that "posts come, high office comes, power comes and how to handle these, one must learn from Ghulam Nabi Azad Ji". "I would consider him a true friend," he said.
"The person who will replace Ghulam Nabi ji (as Leader of Opposition) will have difficulty matching his work because he was not only concerned about his party but also about the country and the House," PM Modi said in his address.
Recounting the bond with Azad, PM Modi narrated a story that how Ghulam Nabi Azad was at the forefront of operations during a terror attack in Jammu and Kashmir and committed towards his service to the nation.
"I will never forget Azad's efforts and Pranab Mukherjee's efforts when people from Gujarat were stuck in Kashmir after a terror attack," he said.
"There was a terrorist attack on pilgrims from Gujarat in Jammu and Kashmir. Ghulam Nabi Azad called me at first. The phone was not for the information, his tears were not stopping. That time Pranab Mukherjee was the defence minister and requested for Indian Air Force jet for transporting the body. He said that don't worry, we will figure out something.  But, Ghulam Nabi called me again. He was at the airport," the PM said.
Azad was appointed as the Leader of Opposition in the Rajya Sabha in June 2014 after the BJP-led NDA formed the government. In 2015, Azad got re-elected to the Rajya Sabha from Jammu and Kashmir, despite the PDP-BJP alliance holding a majority of seats in the Legislative Assembly. Azad was honoured with the "Outstanding Parliamentarian Award" in 2015.
READ MORE: 'Andolan jeevi' remark by PM Modi in Parliament irks Opposition
Meanwhile, Azad is likely to be nominated from Kerala in April. Three members from Kerala who are retiring are senior Congress leader Vayalar Ravi, Muslim League's Abdul Wahab and CPI(M)'s KK Ragesh. 
Besides Azad, three more MPs are retiring today. They are Shamsher Singh (BJP), Nazir Ahmed Laway and Mohammad Fayaz, both from PDP. PM Modi said that Laway and Fayaz's passion towards Jammu and Kashmir's progress is noteworthy.
"We bid farewell to Rajya Sabha MPs who have played a vital role in the proceedings of the Rajya Sabha. I recall my numerous interactions with Shri Nazir Ahmed Laway and Shri Mohammad Fayaz. Their passion towards Jammu and Kashmir's progress is noteworthy," the PM said.
READ MORE: Beware of 'Foreign Destructive Ideology': PM Modi