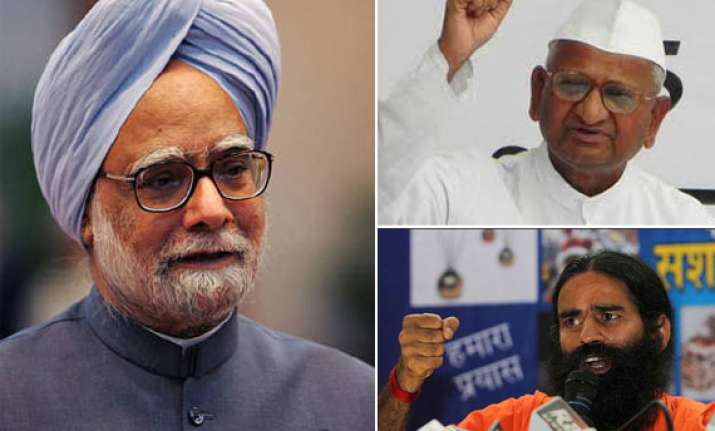 New Delhi, Jun 4 :  Prime Minister Manmohan Singh today rejected the charges of Team Anna that the government had "swindled unbelievable amounts" of money and hit out at yoga guru Ramdev for claiming that "astronomical" sums of black money can be brought back from other countries in one stroke.
Addressing the Congress Working Committee (CWC) meeting here, he said "canards and falsehood" were being spread by "disparate" and "desparate" elements and asked the party cadres to effectively tackle the "misinformation". 
In an apparent reference to yoga guru Ramdev and Team Anna, Singh said, "Every day one hears of astronomical sums of black money that can be brought back in one stroke. 
It is alleged that in every area of its activity, our government has swindled unbelievable amounts of money. Nothing can be farther from the truth."
The assertive statement by the Prime Minister came a day after Ramdev and Anna Hazare held a day-long protest here, with the yoga guru attacking the government over black money. 
The Team Anna has been alleging that thousands of crores had been misappropriated by various departments and ministers. 
"The truth is that our government is fully committed to tackle the menace of corruption in public life and bring about transparency and accountability in the work of government authorities. 
And we have proved this by taking action on multiple fronts," Singh said.
"The legislative and administrative action we have taken in this area speaks for itself," he added. 
The Prime Minister said, "the misinformation being spread by disparate, desperate elements, unified only by their opposition to our government, needs to be tackled effectively."