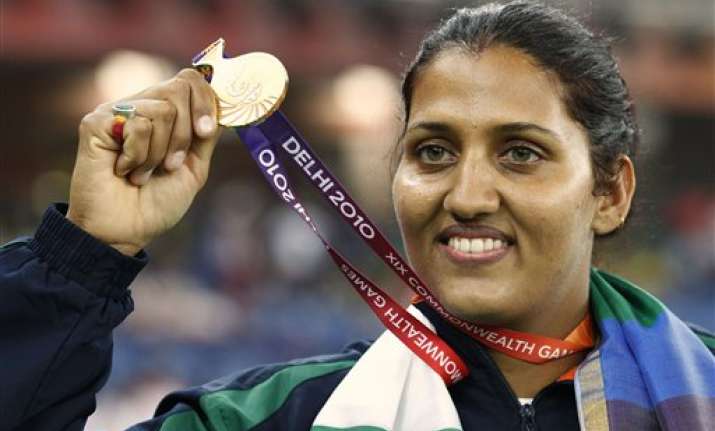 NEW DELHI : India's Commonwealth Games discus throw gold winner Krishna Poonia has appealed to the media not to rake up the issue of her son Lakshya again and again, reports the Delhi newspaper Pioneer.After Krishna Poonia won the gold in discus throw on Monday, her tryst with media, limelight and a sudden barrage of questions has been a rollercoaster ride. 
If it was all her telling and retelling the tales of her journey to the gold through the lanes of emotion on Tuesday, on Wednesday she just couldn't take the sentiments anymore.As once again she stood face-to-face with the guilt of having given her career prominence over her son, Laksya, Krishna broke into a flood of tears.
 "It is already hard for me to stay away from my son and all the media wants to hear is the story of my sacrifice as a mother again and again," she said as tears started filling her eyes.
"It's already tough for me and my husband to leave for our son due to training. I literally haven't watched him growing. That all makes me feel bad as a mother, but when I am made to relive that phase, the mother in me feels all the more bad," she continued.
"I am a very emotional person and each mention of my son hurts me all the more. I will be very happy to answer all the questions as I am also feeling nice to become the focus of media attention, but I think I have already said a lot about me and my son and I a hardly have anything to add to it," Krishna, who had hardly got a good-night's sleep since she led the Indian 1-2-3 in discus throw with Harwant Kaur and Semma Antil, said as she excused herself from the ongoing chat.
"It is indeed nice of media to shower all the attention on me but sometimes they have to understand that what might make a good story for them might be quite an emotional agony for the player," she said after recomposing herself for the further session.
To lighten the mood, when a scribe asked her husband and coach Virender Singh Poonia about any experience of theirs where he had felt jealous of Krishna getting all the male attention, Virender said that could never be a problem for him.
 "Once she was to meet me at the airport and she was running quite late. As she was getting down from the bus, three gangly lads came upto her and offered to carry her luggage. She politely refused once but they kept persisting," he started narrating.
"When they asked her for the third time she just lost her temper and slapped one of them so hard that they just ran way from there. So, when it comes to male attention, I am 100 per cent sure that no one will ever dare to cross his line with her," he finished, bringing a smile to Krishna's face.
With the Asian Games in China her next stop, for which her training will soon start in Patiala, Krishna asked the media to keep a space for athletics as well amid the cricket news.
 "I will want to request the whole media not to forget us athletes once these Games are over. We are aiming to do well in the Asian Games as well and now all we need is support from every possible corner," she said.