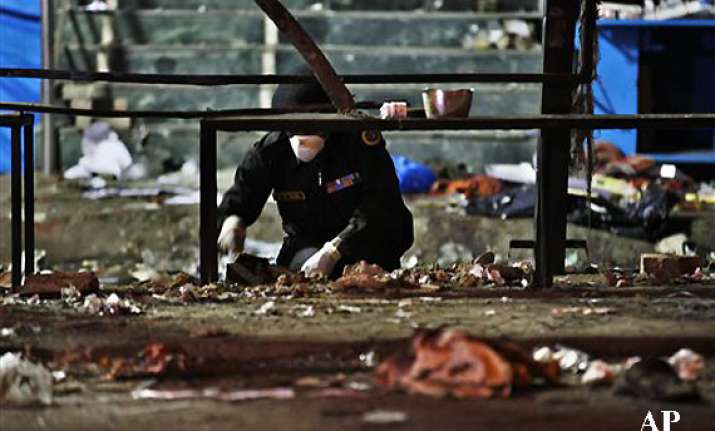 Hyderabad, Feb 22: Pieces of human flesh, blood, mangled remains of two-wheelers, damaged shops and eatables were found strewn at the sites of two powerful bomb blasts that rocked Dilsukhnagar area in Hyderabad Thursday evening.
Innocent people returning home from their workplaces and those busy in shopping and eating at roadside eateries became victims of the barbaric act.
A tiffin centre and roadside shops serving chats, fast food items, tea and ice-cream bore the brunt of the near-simultaneous twin blasts.
Bananas, samosas and other eatables, utensils, damaged furniture, footwear and other belongings of the victims were all scattered.
A team of investigating officials were sifting through the remains for clues well past midnight.
Horrific scenes were witnessed immediately after the blasts at both the places, which are 150 metres from each other.
Such was the impact of the blast that some bodies were blown away in the air.
A witness said he saw body parts of a few victims flying several metres away.
It was a repeat of Aug 25, 2007 when twin blasts had rocked the city, killing 43 people. Majority of the people were killed in Gokul Chat, a popular eatery in Koti, a busy commercial hub.
Director General of Police V. Dinesh Reddy said the terrorists choose a crowded area like Dilsukhnagar to cause maximum damage.
They planted bombs near two theatres and in the peak hour, when hundreds of people throng the theatres and adjoining shops and eateries.
"I was coming back from office when I heard a loud explosion. I was at some distance from where it happened. I suddenly felt severe pain in the leg," said Ranga Rao, an injured admitted in Osmania Hospital.
"People are saying there were bomb blasts. I don't know what happened and how I reached here," said a shocked woman undergoing treatment at the same hospital.
A local resident said most of the people who were eating snacks at a roadside eatery and those having tea at a stall were either killed or injured.
Those caught in a traffic jam on the main road were also injured.
A police officer said terrorists deliberately selected a crowded area to carry out the blasts for inflicting maximum damage.
Dilsukhnagar, a major commercial hub, is located to the south of Musi river and about 15 km from the core city. Hundreds of people pass through the area which connects the city to many densely populated neighbourhoods on the city periphery and along the Hyderabad-Vijayawada highway.
The area was last targeted by terrorists in 2002 when a blast outside the Saibaba temple killed two people and injured a few others.