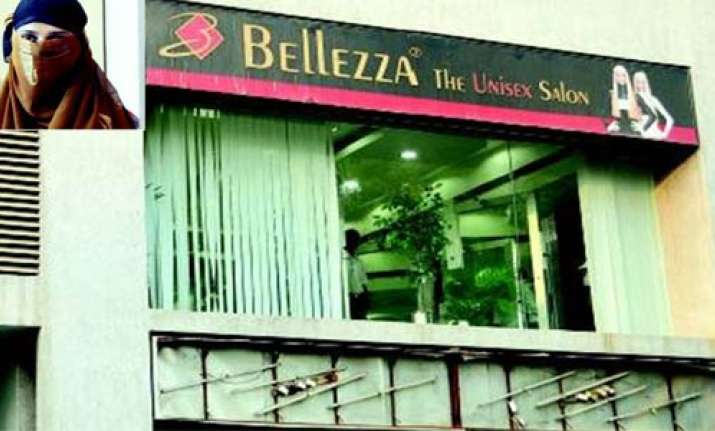 Ahmedabad, May 1:  A sweeper was found doing the Peeping Tom act  at the Anandnagar branch of a famous beauty salong Bellezza on  Friday, reports Ahmedabad Mirror.
A city-based physiotherapist caught  the sweeper peeping at her in the changing room.After initially trying to push it under the carpet,the salon produced the culprit before the Satellite police,where matters were sorted out.He was later released after he gave a written apology.

Dr Priya Shah (name changed),a regular at Bellezza,the popular salon with several branches in the city,had booked packages for various treatments at its Anandnagar branch. On Friday,she went to the salon for a beauty treatment.Around 11.30 am,after the treatment "I went to the changing room.A while later,I saw someone staring at me through the glass wall separating two cabins". 

She screamed and after putting on her clothes rushed out to catch the culprit and called all the salon staff.She then called up her sister Dharti (name changed) who came to the salon.The Satellite police reached the spot soon after Dharti alerted the police control.

By the time the Satellite police reached Bellezza,the voyeur,whom the staff had by then identified as Jayanti,the salon sweeper,had escaped.Bellezza Gujarat head Yogesh and salon staffer Janki also reached the spot.All of them went to the Satellite police station where Dr Priya gave a written application.

Yogesh and Janki assured the police they would produce the sweeper before the police on Saturday. However,Dharti said that when she went to collect the signed copy of her application,the Satellite police refused to give her one.

The police said the matter was closed since Dr Priya and the salon had struck a compromise.We were shocked because we did not strike any compromise and had no intentions of doing so, Dharti told Mirror.In his defence,Yogesh told Mirror,On Friday,a sweeper had entered the changing room to sweep the room,but he did not know that there was someone inside.

As far as we know he did not see anything,but she raised a ruckus and called the police. Satellite Police Inspector N B Chavda said,Maybe the curtain shook in the next room while the lady was changing her clothes.

When she came out there was a sweeper getting out.There has been no crime in this case. The Bellezza staff told us that thousands visit their salon and there have been no complaints of voyeurism. Later in the evening,things were sorted out at the Satellite police station with the intervention of PSI M B Gavit.

Gavit said,We called all the parties involved in the matter and a compromise was reached.We have taken a written apology from the sweeper and the issue is closed now.