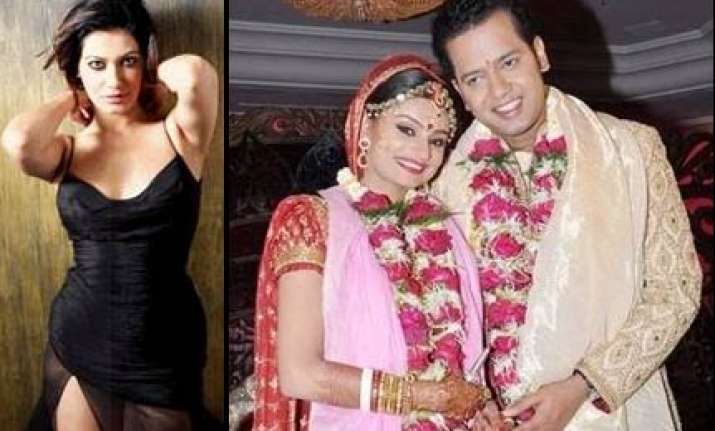 A day after Rahul Mahajan's wife Dimpy walked out on him, and promptly walked back, former girlfriend Payal Rohatgi says he's been threatening her as well, reports the Mumbai newspaper Mid Day.
The starlet who was dating Mahajan when they were both participants on reality show Bigg Boss 2, says he called her on Friday. "Rahul has been calling on my landline since yesterday. He told my maid he'd commit suicide if I didn't talk to him. He told her, 'Didi ko bolo phone karegi nahin toh main suicide karunga."
That Mahajan has been calling her for the past couple of months is known, but the suicide threat has made the actress doubly tense. She said, "I live alone in Mumbai.
My brother isn't here with me. I'm afraid Rahul might send someone to kill me. After the suicide calls on Friday, my maid stayed over at home, so I wouldn't be alone. But for how long? She has her own family to look after too."
Rohatgi's mother who is in Ahmedabad is upset with the situation and has been calling several times a day to check on her daughter. "This is the last thing I need right now. I just want to focus on my work, not on a relationship that is dead and buried," adds Rohatgi. 
The actress has known Mahajan since she moved to Mumbai. "That's when I got to know Rahul and his Dad (the late Pramod Mahajan). Back then I thought Rahul was very sweet. We used to party in the same group. When he divorced his first wife, I happened to be single and things just took off for us. However, I soon realised that his lifestyle didn't suit mine," she reveals.
On Bigg Boss 2, Mahajan was also seen openly flirting with co-contestant Monica Bedi. "I cried my eyes off on camera because he was right there in front of the world with Monica Bedi. And now he's chasing me again. It's irritating," she says.  
Earlier this year, Mahajan was featured in the second season of reality show Swayamwar -- Rahul Dulhaniya Le Jaayenge, in which he met and married Dimpy Ganguly from Kolkata. Rohatgi, who had earlier said that Mahajan offered her Rs 1 crore to participate in the show, claims he got back in touch with her two months after his marriage. "He would call and ask me to meet him. He said 'I'm having problems with my wife. Come back in my life. But I don't want to be a home-breaker.'"  
The actress adds that her recent relationship has been ruined because of Mahajan's behaviour. "There was someone I was seeing but everything's messed up now because I'm in the news for all the wrong reasons. Why drag me into it? The problem is in his head. He needs a doctor."
She's also scared for her security. "I need my mother with me. I had to approach my building secretary and request him not to let anyone come up to my place. I don't want to be a part of this mess."
Despite sending repeated text messages, Rahul Mahajan remained unavailable for comment.