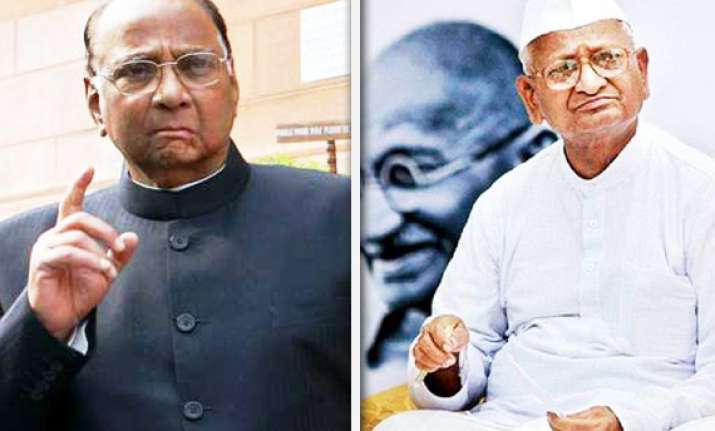 New Delhi, Nov 24: Anna Hazare today got a new sobriquet "new Gandhian" from Sharad Pawar who took a dig at the activist over his reaction to the slapping incident, saying Hazare had given a "new definition" to the philosophy espoused by the Mahatama.

"He (Hazare) has a new definition about Gandhism. He is a new Gandhian," the Union Agriculture Minister retorted.

Earlier in the day, Hazare had tied himself in knots with his reaction to the attack on Pawar, first appearing to respond with contempt and later condemning it.  "He got slapped! Only one slap?" he said to a group of journalists who broke into peals of laughter at his reaction.  But later coming out of the room, he condemned the incident saying such acts of violence were not good.

Pawar appealed to his supporters in Maharashtra to maintain calm following demonstrations by NCP workers in Mumbai and other parts of the state in protest against the attack on him.

At the AICC briefing, party spokesman Manish Tewari also frowned upon Hazare's reaction on the attack on Pawar.

"There is nothing Gandhian about violence. It is a contradiction in terms. If you are Gandhian, then I think the first premise of being a Gandhian is your commitment to non-violence," Tewari remarked.