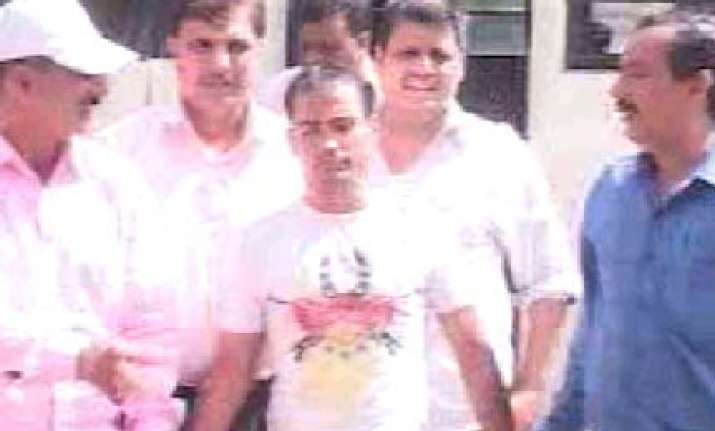 A 26-year-old part-time Hindi film actor, who has escaped from police custody twice, was arrested in south Delhi for his alleged involvement in a series of robbery cases, police said on Wednesday. 
Rahimuddin, who carries a reward of Rs 50,000 declared by Delhi Police and Rs 25,000 by UP Police, was apprehended yesterday from DLF Emporio Mall in Vasant Kunj after a trap was laid to nab him.
The accused, who acted in children's film 'My Friend Ganesha-Part II' and many other Hindi movies, had earlier escaped from the custody of UP Police and Delhi Police, Deputy Commissioner of Police (South) H G S Dhaliwal said.
Rahimuddin, a resident of Ghaziabad in Uttar Pradesh, is involved in several murder cases and was currently working as a part-time actor in Bollywood. A pistol and two live cartridges were recovered from his possession, he said.
The arrest came following the police receiving an input that a criminal carrying a reward on his head will be coming to the shopping mall to meet one of his associates.
"We spotted him near the mall and then he started moving towards the main road. Police asked him to stop, but instead of stopping, he started running and took out a pistol and threatened the team to shoot them. However, we overpowered him," Dhaliwal said.
The DCP said during questioning Rahimuddin told police that he was involved in two murder cases. He left school as he had no interest in study. After leaving school, he started working fireworks in marriage and parties. Later, he became a local goon and allegedly murdered his rival Zulfikar in 2003. The case is pending trial in court and witnesses have deposed against him during trial.
After escaping from UP Police custody, Rahimuddin went to Mumbai and started working in a ladies bag manufacturing unit.
He came in contact with some part-time actors and also started working in Bollywood. He worked there up to December 2007 and came back to Delhi.
"He started his own business of fireworks in marriage and parties and started living in a rented accommodation in Sonia Vihar. During this period, he committed another murder," the DCP said.
He was arrested in July 2009 for the Delhi murder. He hardly remained in jail for one month and again managed to escape from custody while being escorted by police to a Ghaziabad court.
"After escape from custody, he straightaway went to Mumbai and contacted his old companions and again started working in Bollywood," Dhaliwal said. PTI