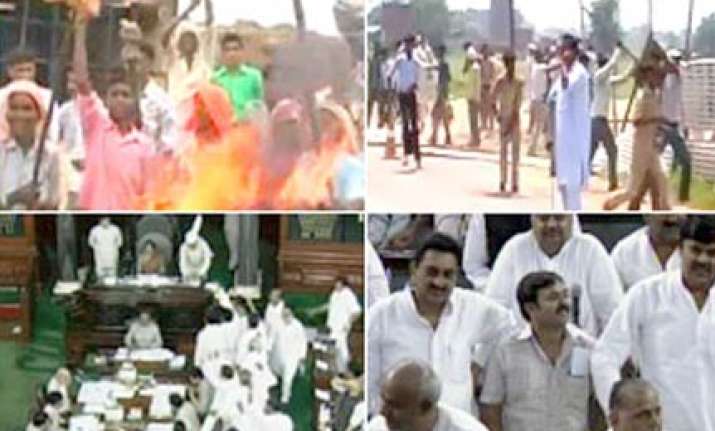 New Delhi: Samajwadi Party and Rashtriya Lok Dal on Monday demanded dismissal of the Mayawati government in the wake of the police firing on agitating farmers.
'There is only one solution of this problem....dismiss this (Mayawati) government," SP President Mulayam Singh Yadav told reporters after both Lok Sabha and Rajya Sabha were adjourned for the day following uproar over the issue.
RLD MP Jayant Chaudhary too demanded dismissal of the BSP government in Uttar Pradesh.
"The blame lies squarely on the administration," he said adding that though farmers are giving their land for development, it was not being used for that purpose.
He said a land acquisition law enacted by the Uttar Pradesh government last year affected 1.45 crore people.
The RLD leader said there was a need to impress upon the state government to withdraw the law which was affecting ecology and rural economy.
Meanwhile, the BJP today constituted an inquiry committee to look into the entire issue and accused the Uttar Pradesh government of benefiting a particular industrial house.
"State president Surya Pratap Shahi has constituted a three-member committee which will examine the Aligarh incident wherein three persons were killed and submit its report accordingly," party spokesman Hriday Narain Dixit told reporters in Lucknow.
Describing as unfortunate the Rs 5 lakh compensation announced by the state government, he said BJP demanded Rs 25 lakh ex-gratia to kin of the farmers killed in firing and arrest of "guilty" police officers.
He alleged that the Aligarh incident was a result of a deal between the state government and the industrial house.
Both houses of Parliament could not transact any business on Monday as BJP and SP members disrupted the proceedings to protest police firing on farmers near Aligarh.
Two days after Aligarh violence, there seems to be no end to the farmers' agitation over compensation for land acquired by Mayawati government for the Yamuna Expressway project.
Four people have died, but thousands of farmers in Aligarh and Mathura are refusing to back down on their demands for higher compensation for their land.
But the voice of Dhramendra is missing. He died in the firing on Saturday.
His wife, left with three children, does not understand why she is paying this price. But Dharmendra's family hopes his death wasn't in vain.
"I am going to fight for my rights till the end, even if I have to give my life," Dharmendra's brother Krishna Pal said.
But the state has its own arguments. It says the price of Rs 436 per sq foot of land was decided upon by a committee which also included farmers and almost 65 per cent farmers had accepted this price and even signed the agreement.
The government also says that those unhappy with the deal were offered an improved package including health, education and employment facilities and even a marginal increase of Rs 12 in compensation.
But not one of the protesting farmers is in any mood to negotiate, especially after politicians have made guest appearances promising to flight alongside them to help them get their rightful rupee.
"The land which the state has bought from these farmers for peanuts has been sold for at least 50 per cent more of the price. This money has not even gone to the state but Mayawati's pocket," RLD leader Ajit Singh said.
Earlier in the day, both Lok Sabha and Rajya Sabha were adjourned repeatedly with the Opposition demanding a discussion over the farmers' demands.
The BJP has demanded the introduction of the Land Acquisition Amendment Bill to address compensation to the protesting farmers.
In the Rajya Sabha, BJP and BSP members clashed on the issue of police firing on farmers. The BSP has objected strongly saying this is a state subject.
Mayawati has now set up a review committee to re-evaluate the land prices and hold fresh negotiations. But until a price is agreed upon, there will be no work on large parts of the Yamuna Expressway.