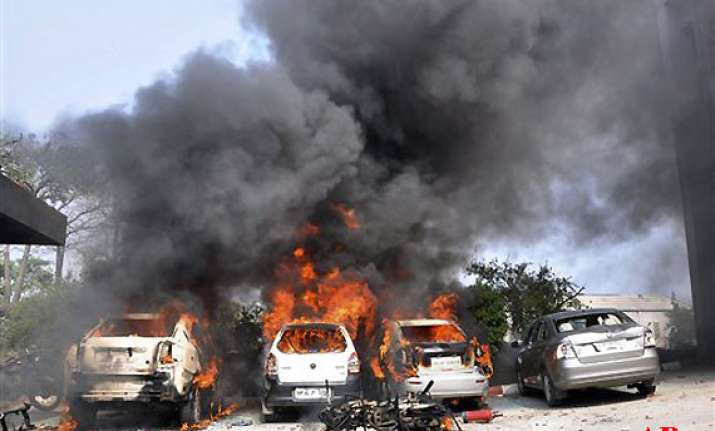 Lucknow, Feb 21: A two-member panel has been formed to probe the violence in Noida that broke out on the first day of the two-day countrywide shutdown, leaving many people injured and property worth crores gutted, said authorities.
The state government late Wednesday named Additional Director General of Police (Law and Order) Arun Kumar and Home Secretary Rakesh as members of the probe committee and asked them to submit a fact finding report within three days.
Principal Secretary (Home) R.M. Srivastava told IANS that "toughest action" would be taken against those found guilty of violence.
The committee has been asked to look into the state of preparedness of the Noida police to handle the shutdown and identify district officials guilty of dereliction of duty.
"The government has taken a serious note of the whole episode, wherein properties were gutted, people were beaten up and several vehicles were set on fire. There should be no doubt that the government would crack down on all found guilty," Srivastava said.
Violence erupted Wednesday in Noida and Greater Noida where factories were targeted and set on fire. Violent clashes took place and several vehicles were set afire.
Officials have started screening the video footage of the violence in order to identify and book the perpetrators.
"We are also exploring possibilities of slapping the National Security Act (NSA) on the rioters," a senior official said.
State government sources said Chief Minister Akhilesh Yadav was particularly miffed at the Noida violence as he views it as a big blow to his efforts to create a pro-investment climate in Uttar Pradesh.
"The chief minister has taken a serious note of the clashes as it could send a wrong signal that industries are not safe in UP," an official said.
The two-day strike has been called by trade unions including Indian National Trade Union Congress (INTUC), AITUC, Hind Mazdoor Sabha (HMS), Centre of Indian Trade Unions (CITU), All India United Trade Union Centre (AIUTUC), and Bharatiya Mazdoor Sangh (BMS).
The unions have demanded measures for containing inflation, steps for employment generation, universal social security, and making the minimum wage Rs.10,000 per month.