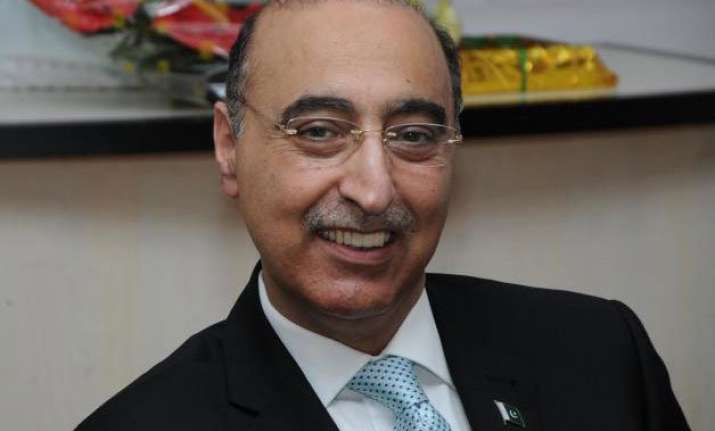 New Delhi: Pakistan has questioned the veracity of India's dossiers on underworld don Dawood Ibrahim calling them "self-serving" and said government's comments in Parliament on his whereabouts vindicated its sustained stand that the fugitive was not in its territory.
Pakistan High Commissioner Abdul Basit said the comments by Minister of State for Home Haribhai Parathibhai Chaudhary in Parliament on Tuesday justified his country's worries on the issue and asserted that India has not placed any request with Islamabad in writing for Dawood's extradition.
"Honestly speaking that was quite disquieting and disconcerting from our perspective and frankly that calls for some introspection. If you prepare dossiers on the basis of self-serving information, than we have every reason to be worried. Our worries are justified," he told a new channel.
Contradicting government's earlier stand on Dawood's whereabouts, Chaudhary had said in Parliament that the government was not aware of the location of the fugitive whose deportation from Pakistan it has been demanding.  Asked whether the Minister's position vindicated Pakistan's stand, he said "It does. He is not in Pakistan."
On whether India either in the recent past or earlier had formally in writing requested extradition of the don, he said, "Not to my knowledge".
When pressed further, he said, "Not to my knowledge because from our perspective as we have been saying our position is that he is not in Pakistan. So the question of extradition does not arise in the first instance."
India had handed over to Pakistan several dossiers on Dawood, India's most wanted fugitive, giving details about his locations in Pakistan.
The envoy also called Jammu and Kashmir as "mother of all issues" bilaterally and said both the countries should work with sincerity to resolve it.
"First of all, it is important whether it is UN resolutions or Shimla agreement or 1999 Lahore Declaration , you need to understand from our perspective, and I think India also recognises that, Jammu and Kashmir is mother of all our issues bilaterally," he said.
The High Commissioner said other issues like Siachen, Sir Creek or water issues, terrorism, have their "roots in the Jammu and Kashmir dispute" while asserting that Islamabad wanted to normalise ties with India.