Follow us on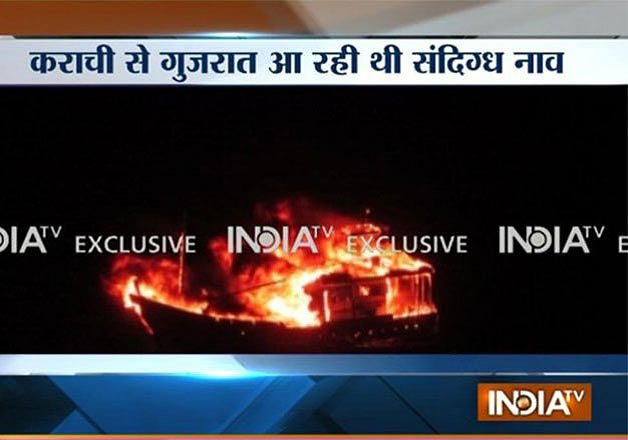 New Delhi: The National Technical Research Organisation (NTRO) had prior information about the terror boat that was destroyed in an operation by the Indian Coast Guard, according to some media reports.NTRO had received a  tip off on December 14 that a terror attack was being planned by terrorists who went through six months of marine commando training.
According to reports available,  NTRO had also been able to pick up satellite phone conversation on December 30 which hinted that a boat which started its journey from Pakistan was on its way to India.
A Pakistani fishing trawler with a suspicious cargo blew itself up on January 1 off Gujarat after being pursued by the Indian coast guard.It reminded of the November 2008 attacks on Mumbai by Pakistani terrorists who used a fishing vessel to land in the Indian financial capital and killed more than 160 people.
Meanwhile, Defence Minister Manohar Parrikar Monday said all details relating to the sinking of the suspected Pakistani vessel would be released soon.  
He said "circumstantial evidence" indicated that the occupants of the vessel were "suspected or possible terrorists" and that they were in touch with Pakistani maritime officials and army.
"They are doing analysis. We will release it once they complete the analysis in 2-3 days. May be it will take four days. Let them do the analysis and after that we will release it" he told reporters here.
Parrikar said the people in the boat were in touch with various authorities in Pakistan, the army and its maritime authority.
"The boat was in constant touch, before the actual action took place, with various authorities which were located in Pakistan and linked with maritime security agencies, army and in Thailand," Parrikar said.
He added that all this was prior to the interception and Coast Guard was pressed into action only after receiving the intelligence.
"I don't know what was in the boat. I do not want to speculate. But their (those on board) intentions were not right. For several hours they were in the area," Parrikar said.
Parrikar dismissed the contention that the four people on board the boat, which "exploded" and sank in the Arabian Sea in the intervening night of December 31 and January one during an Indian Coast Guard operation, were smugglers.
The Minister underlined that the suicidal act of setting the boat on fire by the men on board the boat showed that they were "committed" and indicated suspected terror link.
He said he would classify the occupants of the boat as "suspected or possible terrorists" since they had committed suicide after being intercepted.